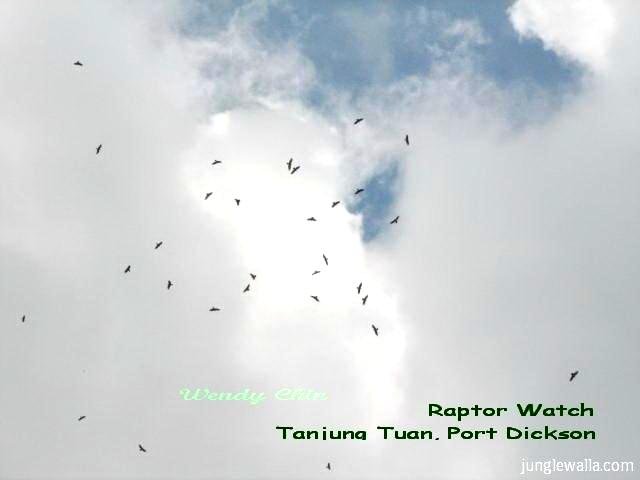 Farewell Feathered Migrants
Enduring the hot blazing afternoon sun, a group of volunteers were watching a large flock of winged creatures, hovering above a tanker that was cruising by, not very far from the coastline of Tanjung Tuan, Port Dickson in West Malaysia. As we watched intensely with our binoculars, our lips were moving, counting every individual in that flock. One of us had a pair of binoculars in one hand while the other hand was busy clicking a counting device. A loud call was heard, "120!!" and everyone let go of their binoculars to catch their breath. Next, a volunteer was writing on the clipboard, recording this important data. The group watched the flock fly into the shoreline safely and then we heard someone call, "Another flock of raptors coming from the left of the tanker"; and the cycle continued…
Raptors from the Jurassic Age?  I wish!! The word "raptor" is taken from the Latin rapere, meaning to seize or to take by force and it is simply referring to all Birds of Prey.
This once a year event known as the "Raptor Watch", is to bid farewell to our amazing raptors that pay a short visit to Peninsula Malaysia before they make their long journey back to the Northern Hemisphere. Our shores here are a stopover for thousands of eagles, hawks and buzzards before making their enduring flight home to Siberia, China, Mongolia, Korea, Japan, India and Indochina as winter draws to an end.
Raptor Watch is the most important public event organized by The Malaysian Nature Society (MNS) held every second week of March. The main objective is to conserve the birds and their habitat, as well as to educate the public on the importance of this spectacular migratory phenomenon. For this year, this event will be held from 12th-13th March at PNB Ilham Resort, Tanjung Tuan (10th mile Port Dickson), Negeri Sembilan. These two dates will be the official event while the counting of raptors would have already started. 
My mentor and a dedicated volunteer, Bing; hard at work
A group of dedicated volunteers from Malaysian Nature Society (MNS) Bird Group and other branches plus friends of the MNS usually take the laborious task of counting these raptors every year. The count lasted for 65 days up until 4th April last year. Ninety per cent of the migratory raptors seen during the Raptor Watch would be the Crested Honey Buzzards (Pernis ptilorhynchus). It is possible to see over a thousand birds flying through Tanjung Tuan in a single day. The count data is a precious record to monitor the increase or decrease of these raptors that may be affected by the current trend of climate change, global warming and deforestation. 
On the official event, there will activities like nature walks, mangroves/seashore walks, talks, fun educational activities to fill in time while waiting for the VIPs to arrive; who will be the Raptors. There will be many booths offering great deals for their bird watching and nature-related equipment. Raptor Watch is a rapturous event not to be missed!
Acknowledgement: Many thanks to Lim Bing Yee – my proof reader and my mentor