JungleWalla Pledge for TGC Langkawi
The good campaign Langkawi Program Beli makan bagi makan
Following the MCO announcement on 18 March 2020 by the Malaysia Government,
Langkawi island came to a standstill, the roads, bustling beaches and places of interest suddenly were eerily quiet.
For once, Nature Parks, Rainforest, and Wildlife get a relieves and a break from human activities. JungleWalla also shutdown our offices including our desk at The Andaman Hotel Langkawi . To our surprise, on the 2nd day of the MCO, the birds have moved in and taken over our space.
While the JungleWalla's going on Hibernations Mode, elsewhere is not a similar circumstance. Without the presence of local and foreign tourists, the tourism industry had systematically collapsed.
During this time, many services personnel lose their daily income as businesses closed. Many tourists become stranded in Langkawi island as the flights and ferry services were cancelled too.
The good campaign born from this adversity to give a helping hand for the most needed that was affected by the outbreak. A brainchild of Alif Aiman the owner of Telaga Seafood Restaurant, supported by local donators, individuals, businesses, and volunteers.
Alif is no stranger to JungleWalla, he was one of the students chosen by his school as a representative to joined The Junglewallah Of Langkawi Program, back in 2008. We are so pleased to see how he has grown from an excellent student to a social entrepreneur.
Furthermore, when you donate to TGC Langkawi, donators will also receive Good Tickets . Its a ticket to gets discounts on 12 products in Langkawi and save up to RM1000 . This good ticket is valid until 31st December 2020. Here is how to make a donation and claim your voucher.
Wait no longer……..! bring out the philanthropic in you while having a great vacation in Langkawi Island…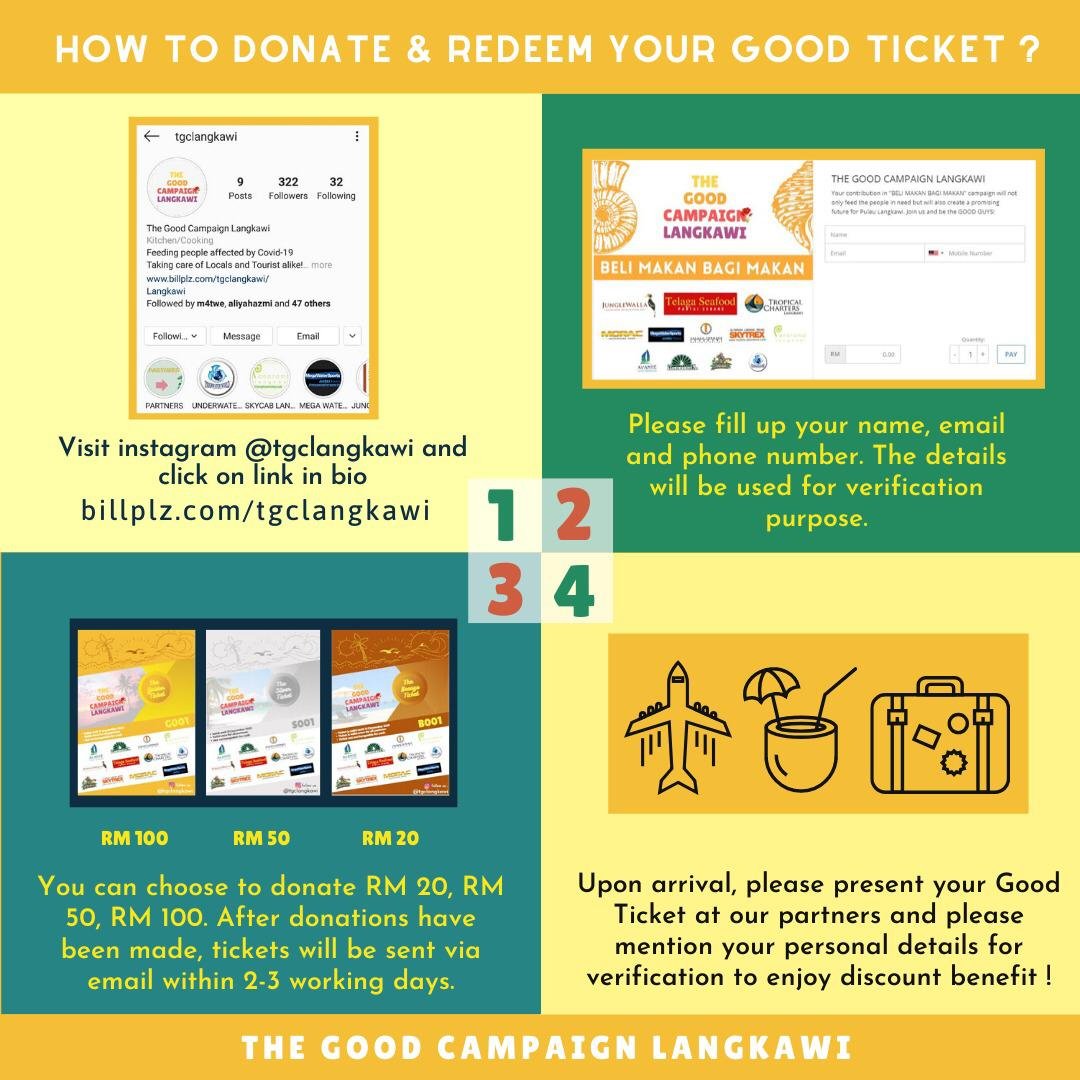 Previous
Next