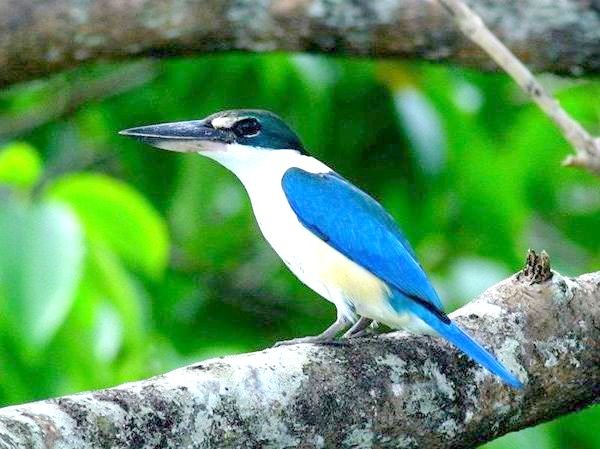 It is a treasure house of some of the most varied fauna and flora, both terrestrial and marine, on the planet. Its rainforest is inhabited by tigers, leopards, elephants, sambar-deer, sun-bears, tapir, rhino and many other wonderful mammals.
It reverberates with the whooping call of the gibbons and the strange cries of the hornbills, the pheasants, the barbets and the babblers. Within this biosphere lie the states of Penang, Perak, Kedah and Trengganu. Collectively it offers vast expanses of untouched rainforest, golden beaches, secluded coral islands and the wonderful living creatures that inhabit them.
The northern peninsula offers a diverse range of habitat types,  including lowland-, montane and mangrove forests, mudflats, pristine beaches, scrubland, rocky-island outcrops and even some of the best diving in the region.
Of the 18 Important Bird Areas in Peninsular Malaysia 9 are to found within the boundaries of these four states.  In all, there are some 640 species of resident avifauna, including 120 common migrant, birds to be found in Peninsular Malaysia.
A great proportion of the endemic birds of Malaysia are restricted to the highlands, Such as Frasers Hill, or Maxwell Hill. A smaller number of endemic also found in lowland forest. Particularly virgin lowland forests are important centres for endemic birds.
With so much on offer this area must surely excite and fulfill any nature traveller's holiday.  we will try to record all birds spotted and publish pictures whenever possible.
MALAYA: 748 species
Little Grebe or Dabchick Tachybaptus ruficollis poggei
Bulwer's Petrel Bulweria bulwerii
Streaked Shearwater Calonectris leucomelas
Wedge-tailed Shearwater Puffinus pacificus
Wilson's Storm-Petrel Oceanites oceanicus
winhoe's Storm-Petrel  Oceanodroma monorhis
Red-billed Tropicbird Phaethon aethereus
White-tailed Tropicbird Phaethon lepturus
Great White Pelican Pelecanus onocrotalus
Spot-billed Pelican Pelecanus philippensis
Masked Booby Sula dactylatra
Red-footed Booby Sula sula rubripes
Brown Booby Sula leucogaster plotus
Little Black Cormorant Phalacrocorax sulcirostris
Great or White-breasted Cormorant Phalacrocorax carbo sinensis
Indian Cormorant Phalacrocorax fuscicollis
Little or Javanese Cormorant Phalacrocorax niger
Oriental Darter Anhinga melanogaster
Christmas Island Frigatebird Fregata andrewsi
Great Frigatebird Fregata minor minor
Lesser Frigatebird Fregata ariel ariel
Grey Heron Ardea cinerea jouyi
Great-billed or Sumatran Heron  Ardea sumatrana sumatrana
Purple Heron Ardea purpurea purpurea
Great Egret Egretta alba modesta
Intermediate or Yellow-billed Egret Ardea intermedia intermedia
Little Egret Egretta garzetta nigripes
Chinese or Swinhoe's Egret Egretta eulophotes
Pacific or Eastern Reef-Egret Egretta sacra sacra
Cattle Egret Bubulcus ibis coromandus
Chinese Pond-Heron Ardeola bacchus
Javan Pond-Heron Ardeola speciosa continentalis
Striated or Little Heron Butorides striatus javanicus
Black-crowned Night-Heron Nycticorax nycticorax nycticorax
Rufous or Nankeen Night-Heron  Nycticorax caledonicus
Malayan Night-Heron  Gorsachius melanolophus
Yellow or Chinese Little Bittern Ixobrychus sinensis
Shrenck's or Von Shrenck's Bittern Ixobrychus eurhythmus
Cinnamon or Chestnut Bittern Ixobrychus cinnamomeus
Black Bittern Ixobrychus flavicollis flavicollis
Great or Eurasian Bittern Botaurus stellaris stellaris
Storm's Stork Ciconia stormi
Woolly-necked Stork Ciconia episcopus
Lesser Adjutant Leptoptilos javanicus
Milky Stork Mycteria cinerea
Painted Stork Mycteria leucocephala
Black-headed or Oriental Ibis Threskiornis melanocephalus
Glossy Ibis Plegadis falcinellus
White-shouldered Ibis Pseudibis davisoni
Eurasian Spoonbill Platalea leucorodia
Lesser Whistling-Duck Dendrocygna javanica
White-winged Duck Cairina scutulata
Cotton Pygmy-Goose Nettapus coromandelianus coromandelianus
Eurasian Wigeon Anas penelope
Common Teal Anas crecca crecca
Northern Pintail Anas acuta
Garganey Anas querquedula
Northern Shoveler Anas clypeata
Tufted Duck Aythya fuligula
Osprey Pandion haliaetus haliaetus
Jerdon's Baza or Cuckoo-Hawk Aviceda jerdoni borneensis
Black Baza or Cuckoo-Hawk Aviceda leuphotes
Oriental or Crested Honey-Buzzard Pernis ptilorhyncus orientalis; P.p.torquatus
Bat Hawk Macheiramphus alcinus alcinus
Black-winged or shouldered Kite Elanus caeruleus vociferus
Black Kite Milvus migrans govinda
Black-eared Kite Milvus lineatus
Brahminy Kite Haliastur indus indus; H.i.intermedius
White-bellied Sea-Eagle Haliaeetus leucogaster
Lesser Fish-Eagle Ichthyophaga humilis humilis
Grey-headed Fish-Eagle Ichthyophaga ichthyaetus
White-rumped Vulture  Gyps bengalensis
Indian Vulture Gyps indicus
Himalayan Griffon Vulture Gyps himalayensis
Cinereous, Black or Monk Vulture Aegypius monachus
Red-headed Vulture Sarcogyps calvus
Short-toed Snake-Eagle Circaetus gallicus
Crested Serpent-Eagle Spilornis cheela malayensis; S.c.pallidus
Mountain or Kinabalu Serpent-Eagle Spilornis kinabaluensis
Northern or Hen Harrier Circus cyaneus
Pied Harrier Circus melanoleucos
Western or Eurasian Marsh-Harrier Circus aeruginosus aeruginosus
Eastern Marsh or New Guinea Pied Harrier Circus spilonotus
Crested Goshawk Accipiter trivirgatus indicus; A.t.microstictus
Shikra or Little Banded Goshawk Accipiter badius poliopsis
Chinese Goshawk Accipiter soloensis
Japanese Sparrowhawk Accipiter gularis gularis
Besra Accipiter virgatus rufotibialis
Eurasian Sparrowhawk Accipiter nisus
Grey-faced Buzzard Butastur indicus
Common Buzzard Buteo buteo japonicus
Black Eagle Ictinaetus malayensis malayensis
Greater Spotted Eagle Aquila clanga
Steppe Eagle Aquila nipalensis nipalensis
Eastern Imperial Eagle Aquila heliaca
Booted Eagle Aquila pennatus
Rufous-bellied Eagle Aquila kienerii formosus
Changeable Hawk-Eagle Spizaetus cirrhatus limnaeetus
Blyth's Hawk-Eagle Spizaetus alboniger
Wallace's Hawk-Eagle Spizaetus nanus nanus
Black-thighed Falconet Microhierax fringillarius
White-fronted Falconet Microhierax latifrons
Common or Eurasian Kestrel Falco tinnunculus interstinctus
Eurasian Hobby Falco subbuteo subbuteo
Oriental Hobby Falco severus severus
Peregrine Falcon Falco peregrinus japonensis; F.p.ernesti
Tabon Scrubfowl Megapodius cumingii
Ferruginous Partridge Caloperdix oculea oculea; C.o.borneensis
Black Partridge Melanoperdix nigra borneensis
Crested Partridge  Rollulus rouloul
Long-billed Partridge Rhizothera longirostris longirostris
Bar-backed Partridge Arborophila brunneopectus
Chestnut-necklaced Partridge Arborophila charltonii charltonii; A.c.graydoni
Malaysian Partridge Arborophila campbelli
Red-breasted or Bornean Partridge Arborophila hyperythra hyperythra; A.h.erythrophrys
Scaly-breasted Partridge Arborophila chloropus
Crimson-headed Partridge Haematortyx sanguiniceps
Blue-breasted or King Quail Coturnix chinensis chinensis; C.c.lineata
Barred Button-Quail Turnix suscitator atrogularis
Great Argus Argusianus argus argus; A.a.grayi
Malaysian Argus Rheinardia nigrescens
Crested Fireback Lophura ignita nobilis; L.i.rufa
Crestless Fireback Lophura erythrophthalma erythrophthalma; L.e.pyronota
Bulwer's Pheasant Lophura bulweri
Bornean Peacock-Pheasant Polyplectron schleiermacheri
Malayan Peacock-Pheasant Polyplectron malacense
Mountain Peacock-Pheasant Polyplectron inopinatum
Green Peafowl Pavo muticus
Red Junglefowl  Gallus gallus spadiceus
Masked Finfoot Heliopais personata
Red-legged Crake Rallina fasciata
Slaty-legged Crake  Rallina eurizonoides telmatophila
Slaty-breasted Rail Gallirallus striatus albiventer; G.s.gularis
Water Rail Rallus aquaticus indicus
White-breasted Waterhen Amaurornis phoenicurus phoenicurus
Baillon's Crake  Porzana pusilla pusilla
Ruddy-breasted Crake Porzana fusca fusca
Band-bellied Crake Porzana paykullii
White-browed Crake Porzana cinerea
Watercock  Gallicrex cinerea
Purple Swamphen Porphyrio porphyrio viridis; P.p.indicus
Common Moorhen Gallinula chloropus chloropus; G.c.orientalis
Common or Eurasian Coot Fulica atra atra
Sarus Crane Grus antigone
Comb-crested Jacana Irediparra gallinacea gallinacea
Pheasant-tailed Jacana Hydrophasianus chirurgus
Bronze-winged Jacana Metopidius indicus
Greater Painted-Snipe  Rostratula benghalensis benghalensis
Crab Plover Dromas ardeola
Black-winged Stilt Himantopus himantopus himantopus
Pied or White-headed Stilt Himantopus leucocephalus
Beach Thick-knee or Stone-curlew Esacus neglectus
Australian Pratincole Stiltia isabella
Oriental Pratincole  Glareola maldivarum
Small or Little Pratincole  Glareola lactea
Yellow-wattled Lapwing Vanellus malarbaricus
Grey-headed Lapwing Vanellus cinereus
Red-wattled Lapwing Vanellus indicus atronuchalis
Pacific Golden-Plover Pluvialis fulva
Pacific Golden-Plover Pluvialis fulva
Grey or Black-bellied Plover Pluvialis squatarola
Common Ringed Plover Charadrius hiaticula
Long-billed Plover Charadrius placidus
Little Ringed Plover Charadrius dubius jerdoni; C.d.curonicus
Kentish or Snowy Plover Charadrius alexandrinus
Malaysian Plover Charadrius peronii
Mongolian or Lesser Sand-Plover  Charadrius mongolus atrifrons; C.m.schaeferi
Greater Sand-Plover Charadrius leschenaultii
Oriental Plover Charadrius veredus
Black-tailed Godwit Limosa limosa melanuroides
Bar-tailed Godwit Limosa lapponica baueri
Little Curlew Numenius minutus
Whimbrel  Numenius phaeopus variegatus
Eurasian Curlew Numenius arquata orientalis
Far Eastern or Eastern Curlew Numenius madagascariensis
Spotted Redshank Tringa erythropus
Common Redshank Tringa totanus
Marsh Sandpiper Tringa stagnatilis
Common Greenshank Tringa nebularia
Spotted or Nordman's Greenshank Tringa guttifer
Green Sandpiper  Tringa ochropus
Wood Sandpiper Tringa glareola
Terek Sandpiper Tringa cinerea
Common Sandpiper Tringa hypoleucos
Grey-tailed Tattler Tringa brevipes
Ruddy Turnstone Arenaria interpres
Red-necked or Northern Phalarope Phalaropus lobatus
Red or Grey Phalarope  Phalaropus fulicarius
Eurasian Woodcock Scolopax rusticola
Wood Snipe Gallinago nemoricola
Pintail Snipe or Pin-tailed Snipe Gallinago stenura
Swinhoe's Snipe Gallinago megala
Common Snipe Gallinago gallinago
Asian Dowitcher Limnodromus semipalmatus
Red Knot Calidris canutus
Great Knot Calidris tenuirostris
Sanderling  Calidris alba
Red-necked Stint Calidris ruficollis
Little Stint Calidris minuta
Temminck's Stint Calidris temminckii
Long-toed Stint Calidris subminuta
Sharp-tailed Sandpiper Calidris acuminata
Dunlin Calidris alpina sakhalina
Curlew Sandpiper Calidris ferruginea
Spoonbill Sandpiper Eurynorhynchus pygmeus
Broad-billed Sandpiper Limicola falcinellus sibirica
Ruff Philomachus pugnax
Pomarine Skua or Jaeger Stercorarius pomarinus
Arctic Skua or Parasitic Jaeger Stercorarius parasiticus
Siberian or Heuglin's Gull Larus heuglini
Brown-headed Gull Larus brunnicephalus
Black-headed Gull Larus ridibundus
Bridled Tern Onychoprion anaethetus anaethetus
Sooty Tern Onychoprion fuscata nubilosa
Little Tern Sternula albifrons sinensis
Caspian Tern  Hydroprogne caspia
Whiskered Tern Chlidonias hybrida
White-winged Tern Chlidonias leucopterus
Gull-billed Tern Sterna nilotica affinis
River Tern Sterna aurantia
Common Tern Sterna hirundo tibetana; S.h.longipennis
Roseate Tern Sterna dougallii bangsi
Black-naped Tern Sterna sumatrana sumatrana
Great Crested or Crested Tern Sterna bergii velox
Lesser Crested Tern  Sterna bengalensis
Chinese Crested Tern Sterna bernsteini
Brown or Common Noddy Anous stolidus pileatus
Black Noddy Anous minutus worcesteri
Feral Pigeon Columba livia feral (introduced)
Silvery Wood-Pigeon Columba argentina
Metallic or White-throated Pigeon Columba vitiensis anthracina
Spotted Dove  Streptopelia chinensis tigrina
Red Collared-Dove Streptopelia tranquebarica humilis
Island Collared-Dove Streptopelia bitorquata dusumieri
Barred Cuckoo-Dove Macropygia unchall unchall
Ruddy Cuckoo-Dove Macropygia emiliana borneensis
Little Cuckoo-Dove Macropygia ruficeps malayana; M.r.nana
Emerald Dove Chalcophaps indica indica
Zebra or Barred Ground Dove Geopelia striata
Nicobar Pigeon Caloenas nicobarica nicobarica
Cinnamon-headed Green-Pigeon Treron fulvicollis fulvicollis
Little Green-Pigeon  Treron olax
Pink-necked Green-Pigeon  Treron vernans vernans
Orange-breasted Green-Pigeon Treron bicincta bicincta
Thick-billed Green-Pigeon  Treron curvisrostra curvisrostra
Large Green-Pigeon  Treron capellei magnirostris
Yellow-vented Green-Pigeon Treron seimundi seimundi
Wedge-tailed Green-Pigeon Treron sphenura robinsoni
Jambu Fruit-Dove Ptilinopus jambu
Black-naped Fruit-Dove Ptilinopus melanospila banueyensis
Green Imperial-Pigeon Ducula aenea polia
Grey Imperial-Pigeon Ducula pickeringii
Mountain Imperial-Pigeon Ducula badia badia
Pied Imperial-Pigeon Ducula bicolor bicolor
Blue-rumped Parrot Psittinus cyanurus cyanurus
Blue-naped Parrot Tanygnathus lucionensis talautensis
Blue-crowned Hanging-Parrot Loriculus galgulus
Ring-necked Parakeet Psittacula krameri (introduced)
Red-breasted Parakeet Psittacula alexandri
Long-tailed or Pink-cheeked Parakeet Psittacula longicauda longicauda
Drongo Cuckoo Surniculus lugubris
Chestnut-winged Cuckoo Clamator coromandus
Banded Bay Cuckoo Cacomantis sonneratii
Brush Cuckoo Cacomantis variolosus
Plaintive Cuckoo Cacomantis merulinus
Asian Emerald Cuckoo Chrysococcyx maculatus
Horsfield's Bronze-Cuckoo Chrysococcyx basalis
Little Bronze-Cuckoo Chrysococcyx minutillus
Violet Cuckoo Chrysococcyx xanthorhynchus
Bornean or Sunda Ground-Cuckoo Carpococcyx radiatus
Hodgson's Hawk-Cuckoo Cuculus nisicolor
Indian Cuckoo Cuculus micropterus
Large Hawk-Cuckoo Cuculus sparverioides
Lesser Cuckoo Cuculus poliocephalus
Malaysian Hawk-Cuckoo Cuculus fugax
Moustached Hawk-Cuckoo Cuculus vagans
Oriental Cuckoo Cuculus saturatus
Black-bellied Malkoha Phaenicophaeus diardi
Chestnut-bellied Malkoha Phaenicophaeus sumatranus
Chestnut-breasted Malkoha Phaenicophaeus curvirostris
Green-billed Malkoha Phaenicophaeus tristis
Raffles's Malkoha Phaenicophaeus chlorophaeus
Red-billed Malkoha Phaenicophaeus javanicus
Greater Coucal Centropus sinensis
Lesser Coucal Centropus bengalensis
Short-toed Coucal Centropus rectunguis
Asian or Common Koel Eudynamys scolopacea
Barn Owl Tyto alba javanica
Oriental Bay-Owl Phodilus badius badius
White-fronted Scops-Owl Otus sagittatus
Reddish Scops-Owl Otus rufescens rufescens; O.r.malayensis
Mountain Scops-Owl Otus spilocephalus vulpes; O.s.luciae
Oriental Scops-Owl Otus sunia malayanus
Rajah Scops-Owl Otus brookii brookii
Sunda Scops-Owl Otus lempiji lempiji; O.l.cnephaeus
Barred Eagle-Owl Bubo sumatranus sumatranus; B.s.tenuifasciatus
Dusky Eagle-Owl Bubo coromandus klossi
Buffy Fish-Owl Ketupa ketupu ketupu; K.k.pageli
Brown Fish-Owl Ketupa zeylonensis leschenault
Spotted Wood-Owl Strix seloputo seloputo
Brown Wood-Owl Strix leptogrammica vaga; S.l.maingayi
Collared Owlet Glaucidium brodiei brodiei
Brown Hawk-Owl or Boobook Ninox scutulata burmanica; N.s.borneensis
Northern Boobook  Ninox japonica
Short-eared Owl Asio flammeus flammeus
Large Frogmouth Batrachostomus auritus
Dulit Frogmouth Batrachostomus harterti
Gould's Frogmouth Batrachostomus stellatus
Bornean Frogmouth Batrachostomus mixtus
Blyth's Frogmouth Batrachostomus affinis
Sunda Frogmouth Batrachostomus cornutus cornutus
Malaysian Eared-Nightjar Eurostopodus temminckii
Great Eared-Nightjar Eurostopodus macrotis cerviniceps
Grey or Jungle Nightjar Caprimulgus indicus jotaka; C.i.hazarae
Large-tailed Nightjar Caprimulgus macrurus bimaculatus; C.m.salvadorii
Indian Nightjar Caprimulgus asiaticus asiaticus
Savanna Nightjar Caprimulgus affinis
Bonaparte's Nightjar Caprimulgus concretus
Waterfall Swift or Giant Swiftlet Hydrochous gigas
Glossy or White-bellied Swiftlet Collocalia esculenta cyanoptila
Cave or Linchi Swiftlet Collocalia linchi dodgei; C.l.ripleyi
Himalayan Swiftlet Aerodramus brevirostris innominata
Mossy-nest Swiftlet Aerodramus salanganus natunae
Black-nest Swiftlet Aerodramus maximus maximus; C.m.lowi
Edible-nest Swiftlet Aerodramus fuciphagus vestita; A.f.amechana
German's or Pale-rumped Swiftlet Aerodramus germani
Silver-rumped Spinetail   Rhapidura leucopygialis
White-throated Needletail Hirundapus caudacutus
Silver-backed Needletail Hirundapus cochinchinensis
Brown-backed Needletail Hirundapus giganteus giganteus
Asian Palm-Swift Cypsiurus balasiensis infumatus
Pacific or Fork-tailed Swift  Apus pacificus pacificus; A.p.kanoi
House Swift Apus nipalensis subfurcatus
Grey-rumped Tree-Swift Hemiprocne longipennis harterti
Whiskered Tree-Swift Hemiprocne comata comata
Cinnamon-rumped Trogon Harpactes orrhophaeus
Diard's Trogon Harpactes diardii
Orange-breasted Trogon Harpactes oreskios
Red-headed Trogon Harpactes erythrocephalus
Red-naped Trogon Harpactes kasumba
Scarlet-rumped Trogon Harpactes duvaucelii
Whitehead's Trogon Harpactes whiteheadi
Green Broadbill Calyptomena viridis
Hose's Broadbill Calyptomena hosii
Whitehead's Broadbill Calyptomena whiteheadi
Dusky Broadbill Corydon sumatranus
Black-and-red Broadbill Cymbirhynchus macrorhynchos
Banded Broadbill Eurylaimus javanicus
Black-and-yellow Broadbill Eurylaimus ochromalus
Long-tailed Broadbill Psarisomus dalhousiae
Silver-breasted Broadbill Serilophus lunatus
Banded Pitta Pitta guajana
Black-crowned or Graceful Pitta Pitta venusta
Blue-banded Pitta Pitta arquata
Blue-headed Pitta Pitta baudii
Blue-winged Pitta Pitta moluccensis
Fairy Pitta Pitta nympha
Garnet Pitta Pitta granatina
Giant Pitta Pitta caerulea
Hooded Pitta Pitta sordida
Mangrove Pitta Pitta megarhyncha
Rusty-naped Pitta Pitta oatesi
Common or Eurasian Hoopoe Upupa epops
Rufous-collared Kingfisher Actenoides concretus concretus; A.c.borneanus
Banded Kingfisher Lacedo pulchella pulchella; L.p.amabilis; L.p.melanops
Stork-billed Kingfisher Pelargopsis capensis malaccensis; P.c.cyanopteryx
Brown-winged Kingfisher Pelargopsis amauropterus
Ruddy Kingfisher Halcyon coromanda coromanda; H.c.major; H.c.minor
White-throated Kingfisher Halcyon smyrnensis fusca
Black-capped Kingfisher Halcyon pileata
Collared Kingfisher Todiramphus chloris laubmanniana; T.c.humii
Sacred Kingfisher Todiramphus sanctus sanctus
Oriental Dwarf Kingfisher Ceyx erithacus erithacus; C.e.motleyi
Rufous-backed Kingfisher Ceyx rufidorsa
Blue-banded Kingfisher Alcedo euryzona peninsulae
Blue-eared Kingfisher Alcedo meninting verreauxii
Common or River Kingfisher Alcedo atthis bengalensis
Red-bearded Bee-eater Nyctyornis amictus
Blue-tailed Bee-eater Merops philippinus
Blue-throated Bee-eater Merops viridis viridis
Chestnut-headed Bee-eater Merops leschenaulti leschenaulti
Indian Roller Coracias benghalensis affinis
Dollarbird  Eurystomus orientalis orientalis; E.o.abundus
Papuan or Blyth's Hornbill  Aceros plicatus
Plain-pouched Hornbill Aceros subruficollis
White-crowned Hornbill Aceros comatus
Wreathed Hornbill Aceros undulatus
Wrinkled Hornbill Aceros corrugatus
Bushy-crested Hornbill Anorrhinus galeritus
Black Hornbill Anthracoceros malayanus
Malabar Pied-Hornbill Anthracoceros coronatus
Great Hornbill Buceros bicornis
Helmeted Hornbill Buceros vigil
Rhinoceros Hornbill Buceros rhinoceros
Malaysian Honeyguide Indicator archipelagicus
Brown Barbet Calorhamphus fuliginosus
Black-browed Barbet Megalaima oorti
Blue-eared Barbet Megalaima australis
Bornean Barbet Megalaima eximia
Coppersmith Barbet Megalaima haemacephala
Golden-naped Barbet Megalaima pulcherrima
Golden-throated Barbet Megalaima franklinii
Gold-whiskered Barbet Megalaima chrysopogon
Lineated Barbet Megalaima lineata
Mountain Barbet Megalaima monticola
Red-crowned Barbet Megalaima rafflesii
Red-throated Barbet Megalaima mystacophanos
Yellow-crowned Barbet Megalaima henricii
Fire-tufted Barbet Psilopogon pyrolophus
Speckled Piculet Picumnus innominatus malayorum
Rufous Piculet  Sasia abnormis abnormis
Brown-capped Woodpecker Dendrocopos moluccensis moluccensis
Grey-capped Woodpecker Dendrocopos canicapillus auritus; D.c.aurantiiventris
Rufous Woodpecker Celeus brachyurus squamigularis; C.b.badiosus
White-bellied Woodpecker Dryocopus javensis javensis
Banded Woodpecker Picus mineaceus malaccensis
Lesser Yellownape Picus chlorolophus rodgersi
Crimson-winged Woodpecker Picus puniceus observandus
Greater Yellownape Picus flavinucha wrayi
Checker-throated Woodpecker Picus mentalis humii
Streak-breasted Woodpecker Picus viridanus
Laced Woodpecker  Picus vittatus
Grey-headed or faced Woodpecker Picus canus robinsoni
Olive-backed Woodpecker Dinopium rafflesii rafflesii; D.r.dulitense
Common Flameback Dinopium javanense javanense
Greater Flameback Chrysocolaptes lucidus chersonesus
Bamboo Woodpecker Gecinulus viridis
Maroon Woodpecker Blythipicus rubiginosus
Bay Woodpecker Blythipicus pyrrhotis cameroni
Orange-backed Woodpecker Reinwardtipicus validus xanthopygius
Buff-rumped Woodpecker Meiglyptes tristis grammithorax
Buff-necked Woodpecker Meiglyptes tukki tukki
Grey-and-buff Woodpecker Hemicircus concretus sordidus
Great Slaty Woodpecker Mulleripicus pulverulentus pulverulentus
Oriental or Small Skylark Alauda gulgula
Australasian Lark Mirafra javanica
Sand Martin or Bank Swallow Riparia riparia ijimae
Dusky Crag-Martin Hirundo concolor sintaungensis
Barn Swallow Hirundo rustica gutturalis
Pacific Swallow Hirundo tahitica abbotti; H.t.javanica
Red-rumped Swallow  Hirundo daurica
Striated Swallow Hirundo striolata striolata; H.s.badia
Asian House-Martin Delichon dasypus dasypus
Grey Wagtail Motacilla cinerea
White Wagtail Motacilla alba
Eastern Yellow Wagtail Motacilla tschutschensis alascensis
Forest Wagtail Dendronanthus indicus
Olive-backed Pipit Anthus hodgsoni
Pechora Pipit Anthus gustavi
Red-throated Pipit Anthus cervinus
Finsch's Bulbul Alophoixus finschii
Grey-cheeked Bulbul Alophoixus bres
Ochraceous Bulbul Alophoixus ochraceus
Yellow-bellied Bulbul Alophoixus phaeocephalus
Ashy Bulbul Hemixos flavala
Hairy-backed Bulbul  Tricholestes criniger
Mountain Bulbul Ixos mcclellandii
Streaked Bulbul Ixos malaccensis
Black-and-white Bulbul Pycnonotus melanoleucos
Black-crested Bulbul Pycnonotus melanicterus
Black-headed Bulbul Pycnonotus atriceps
Cream-vented Bulbul Pycnonotus simplex
Flavescent Bulbul Pycnonotus flavescens
Grey-bellied Bulbul Pycnonotus cyaniventris
Olive-winged Bulbul Pycnonotus plumosus
Puff-backed Bulbul Pycnonotus eutilotus
Red-eyed Bulbul Pycnonotus brunneus
Red-whiskered Bulbul  Pycnonotus jocosus
Scaly-breasted Bulbul Pycnonotus squamatus
Spectacled Bulbul Pycnonotus erythropthalmos
Straw-headed Bulbul Pycnonotus zeylanicus
Streak-eared Bulbul  Pycnonotus blanfordi
Stripe-throated Bulbul  Pycnonotus finlaysoni
Yellow-vented Bulbul  Pycnonotus goiavier
Hook-billed Bulbul Setornis criniger
Buff-vented Bulbul Iole olivacea
Pied Triller  Lalage nigra
Ashy Minivet Pericrocotus divaricatus
Fiery Minivet Pericrocotus igneus
Grey-chinned Minivet Pericrocotus solaris
Scarlet Minivet Pericrocotus flammeus
Asian Fairy-Bluebird Irena puella
Blue-winged Leafbird Chloropsis cochinchinensis
Golden-fronted Leafbird Chloropsis aurifrons
Greater Green Leafbird Chloropsis sonnerati
Lesser Green Leafbird Chloropsis cyanopogon
Orange-bellied Leafbird Chloropsis hardwickii
Common Iora Aegithina tiphia
Great Iora  Aegithina lafresnayei
Green Iora Aegithina viridissima
Rufous-headed Robin Luscinia ruficeps
Siberian Blue Robin Luscinia cyane
Siberian Rubythroat Luscinia calliope
White-tailed Robin Cinclidium leucurum leucurum
Oriental Magpie-Robin Copsychus saularis
White-crowned Shama Copsychus stricklandii
White-rumped Shama Copsychus malabaricus
Red-flanked Bluetail or Orange-flanked Bush-Robin Tarsiger cyanurus
Rufous-tailed Shama  Trichixos pyrropyga
Pied Bushchat Saxicola caprata
Siberian Stonechat Saxicola maura
Northern Wheatear Oenanthe oenanthe
White-throated Rock-Thrush  Monticola gularis
Blue Rock-Thrush Monticola solitarius pandoo; M.s.philippensis; M.s.madoci
Sunda Whistling-Thrush Myophonus glaucinus borneensis
Malayan Whistling-Thrush Myophonus robinsoni
Blue Whistling-Thrush Myophonus caeruleus crassirostris; M.c.dicrorhynchus
Chestnut-capped Thrush Zoothera interpres interpres
Orange-headed Thrush Zoothera citrina innotata; Z.c.gibsonhilli; Z.c.aurata
Everett's Thrush Zoothera everetti
Siberian Thrush  Zoothera sibirica sibirica; Z.s.davisoni
White's or Scaly Thrush  Zoothera dauma
Island Thrush Turdus poliocephalus seebohmi
Eyebrowed Thrush Turdus obscurus
Lesser Shortwing Brachypteryx leucophrys
White-browed Shortwing Brachypteryx montana
Black-breasted Fruit-hunter Chlamydochaera jefferyi
Chestnut-naped Forktail Enicurus ruficapillus
Slaty-backed Forktail Enicurus schistaceus
White-crowned Forktail Enicurus leschenaulti
Bornean Whistler Pachycephala hypoxantha
Mangrove Whistler Pachycephala grisola
Bornean Stubtail Urosphena whiteheadi
Lanceolated Warbler Locustella lanceolata
Pallas's Grasshopper-Warbler  Locustella certhiola certhiola
Middendorff's Grasshopper-Warbler Locustella ochotensis ochotensis
Black-browed Reed-Warbler Acrocephalus bistrigiceps
Oriental Reed-Warbler Acrocephalus orientalis
Clamorous Reed-Warbler Acrocephalus stentoreus lentecaptus
Thick-billed Warbler  Acrocephalus aedon
Zitting Cisticola Cisticola juncidis malaya
Golden-headed or Bright-capped Cisticola Cisticola exilis rustica
Hill Prinia Prinia atrogularis waterstradti
Rufescent Prinia Prinia rufescens extrema
Yellow-bellied Prinia Prinia flaviventris rafflesi; P.f.latrunculus
Mountain Tailorbird Orthotomus cuculatus malayanus; O.c.cinereicollis
Common Tailorbird Orthotomus sutorius maculicollis
Dark-necked Tailorbird Orthotomus atrogularis atrogularis; O.a.anambensis; O.a.humphreysi
Rufous-tailed Tailorbird Orthotomus sericeus sericeus; O.s.hesperius
Ashy Tailorbird Orthotomus ruficeps cineraceus; O.r.borneoensis
Radde's Warbler  Phylloscopus schwarzi
Inornate or Yellow-browed Warbler Phylloscopus inornatus
Arctic Warbler Phylloscopus borealis borealis; P.b.xanthodryas; P.b.kennicotti
Pale-legged Leaf-Warbler Phylloscopus tenellipes
Eastern Crowned Warbler Phylloscopus coronatus
Mountain Leaf-Warbler Phylloscopus trivirgatus trivirgatus; P.y.parvitostris
Chestnut-crowned Warbler Seicercus castaniceps butleri
Yellow-breasted Warbler Seicercus montis montis; S.m.davisoni
Yellow-bellied Warbler Abroscopus superciliaris sakaiorum; A.s.schwaneri
Golden-bellied Gerygone Gerygone sulphurea
Grey-headed Canary-Flycatcher Culicicapa ceylonensis
Blue-and-white Flycatcher Cyanoptila cyanomelana
Blue-throated Flycatcher Cyornis rubeculoides
Bornean Blue-Flycatcher Cyornis superbus
Hill Blue-Flycatcher Cyornis banyumas
Malaysian Blue-Flycatcher Cyornis turcosus
Mangrove Blue-Flycatcher Cyornis rufigastra
Pale Blue-Flycatcher Cyornis unicolor
Rueck's Blue-Flycatcher Cyornis ruckii
Tickell's Blue-Flycatcher  Cyornis tickelliae
White-tailed Flycatcher Cyornis concretus
Indigo Flycatcher Eumyias indigo
Verditer Flycatcher Eumyias thalassina
Chinese Flycatcher Ficedula elisae
Little Pied-Flycatcher Ficedula westermanni
Mugimaki Flycatcher Ficedula mugimaki
Narcissus Flycatcher Ficedula narcissina
Red-breasted Flycatcher Ficedula parva
Rufous-browed Flycatcher Ficedula solitaris
Rufous-chested Flycatcher Ficedula dumetoria
Snowy-browed Flycatcher Ficedula hyperythra
Taiga Flycatcher Ficedula albicilla
Yellow-rumped or Tricolour Flycatcher Ficedula zanthopygia
Black-naped Monarch Hypothymis azurea
Asian Brown Flycatcher Muscicapa dauurica
Brown-streaked Flycatcher Muscicapa williamsoni
Ferruginous Flycatcher Muscicapa ferruginea
Pygmy Blue-Flycatcher Muscicapella hodgsoni
Large Niltava Niltava grandis
Rufous-vented Niltava Niltava sumatrana
Maroon-breasted Philentoma Philentoma velatum
Rufous-winged Philentoma Philentoma pyrhopterum
Brown-chested Jungle-Flycatcher Rhinomyias brunneata
Eyebrowed Jungle-Flycatcher Rhinomyias gularis
Grey-chested Jungle-Flycatcher Rhinomyias umbratilis
Fulvous-chested Jungle-Flycatcher Rhinomyias olivacea
White-browed Jungle-Flycatcher Rhinomyias insignis
Asian Paradise-Flycatcher Terpsiphone paradisi
Japanese Paradise-Flycatcher Terpsiphone atrocaudata
Pied Fantail  Rhipidura javanica
Spotted Fantail Rhipidura perlata
White-throated Fantail Rhipidura albicollis
Pygmy White-eye Oculocincta squamifrons
Black-capped White-eye Zosterops atricapillus
Everett's White-eye  Zosterops everetti
Javan White-eye Zosterops flavus
Oriental White-eye Zosterops palpebrosus
Bornean Bristlehead Pityriasis gymnocephala
Velvet-fronted Nuthatch Sitta frontalis saturatior; S.f.corallipes
Blue Nuthatch Sitta azurea expectata
Great Tit Parus major ambiguus; P.m.sarawacensis
Sultan Tit Melanochlora sultanea flavocristata
Brown Shrike Lanius cristatus
Long-tailed or Rosy-patched Shrike Lanius schach
Tiger or Thick-billed Shrike Lanius tigrinus
Large Wood-Shrike  Tephrodornis gularis
Bar-winged Flycatcher-shrike Hemipus picatus
Black-winged Flycatcher-shrike Hemipus hirundinaceus
Bar-bellied Cuckoo-Shrike Coracina striata
Javan Cuckoo-Shrike Coracina javensis
Lesser Cuckoo-Shrike Coracina fimbriata
Sunda Cuckoo-Shrike Coracina larvata
Ashy Drongo Dicrurus leucophaeus
Black Drongo Dicrurus macrocercus
Bronzed Drongo Dicrurus aeneus
Crow-billed Drongo Dicrurus annectans
Greater Racket-tailed Drongo  Dicrurus paradiseus
Hair-crested Drongo Dicrurus hottentottus
Lesser Racket-tailed Drongo Dicrurus remifer
Black-throated Babbler  Stachyris nigricollis
Chestnut-rumped Babbler  Stachyris maculata
Chestnut-winged Babbler Stachyris erythroptera
Golden Babbler Stachyris chrysaea
Grey-headed Babbler Stachyris poliocephala
Grey-throated Babbler  Stachyris nigriceps
Rufous-fronted Babbler Stachyris rufifrons
White-necked Babbler Stachyris leucotis
Ferruginous Babbler Trichastoma bicolor
White-chested Babbler Trichastoma rostratum
Black-capped Babbler Pellorneum capistratum
Buff-breasted Babbler Pellorneum tickelli
Puff-throated Babbler Pellorneum ruficeps
Temminck's Babbler Pellorneum pyrrogenys
Abbott's Babbler Malacocincla abbotti
Horsfield's Babbler Malacocincla sepiarium
Short-tailed Babbler Malacocincla malaccensis
Grey-breasted Babbler  Malacopteron albogulare
Moustached Babbler Malacopteron magnirostre
Rufous-crowned Babbler Malacopteron magnum
Scaly-crowned Babbler Malacopteron cinereum
Sooty-capped Babbler Malacopteron affine
White-hooded Babbler Gampsorhynchus rufulus
Malaysian Rail-babbler Eupetes macrocerus
Chestnut-backed Scimitar-Babbler Pomatorhinus montanus
Large Scimitar-Babbler Pomatorhinus hypoleucos
Striped Wren-Babbler Kenopia striata
Black-throated Wren-Babbler Napothera atrigularis
Eyebrowed Wren-Babbler Napothera epilepidota
Large Wren-Babbler Napothera macrodactyla
Marbled Wren-Babbler Napothera marmorata
Mountain Wren-Babbler Napothera crassa
Streaked Wren-Babbler  Napothera brevicaudata
Pygmy Wren-Babbler Pnoepyga pusilla
Bornean Wren-Babbler Ptilocichla leucogrammica
Fluffy-backed Tit-Babbler Macronous ptilosus
Striped Tit-Babbler Macronous gularis
Black-eared Shrike-Babbler Pteruthius melanotis
White-browed Shrike-Babbler Pteruthius flaviscapis
Brown Fulvetta Alcippe brunneicauda
Mountain Fulvetta Alcippe peracensis
Rufous-winged Fulvetta Alcippe castaneceps
Cutia Cutia nipalensis
Black Laughingthrush Garrulax lugubris
Chestnut-capped Laughingthrush Garrulax mitratus
Chestnut-crowned Laughingthrush Garrulax erythrocephalus
Sunda Laughingthrush Garrulax palliatus
Long-tailed Sibia Heterophasia picaoides
Silver-eared Mesia or Leiothrix Leiothrix argentauris
Chestnut-crested Yuhina Yuhina everetti
White-bellied Yuhina Yuhina zantholeuca
Blue-winged Minla Minla cyanouroptera
Chestnut-tailed Minla Minla strigula
Crested Jay  Platylophus galericulatus ardesiacus; P.g.coronatus
Black Magpie Platysmurus leucopterus leucopterus; P.l.aterrimus
Green or Common Green Magpie Cissa chinensis minor; C.c.robinsoni
Short-tailed Magpie Cissa thalassina jefferyi
Bornean Treepie Dendrocitta cinerascens
Racket-tailed Treepie Crypsirina temia
House Crow Corvus splendens (introduced)
Slender-billed Crow Corvus enca compilator
Large-billed Crow Corvus macrorhynchos macrorhynchos
Asian Glossy Starling Aplonis panayensis strigata
Golden-crested Myna Ampeliceps coronatus
Hill Myna Gracula religiosa religiosa
Crested Myna Acridotheres cristatellus (introduced)
Jungle Myna Acridotheres fuscus torquatus
Common or Indian Myna  Acridotheres tristis
Vinous-breasted Starling Sturnus burmannicus
Purple-backed or Daurian Starling Sturnus sturninus
Chestnut-cheeked Starling Sturnus philippensis
White-shouldered or Grey-backed Starling Sturnus sinensis
Yellow-breasted Flowerpecker Prionochilus maculatus oblitus
Crimson-breasted Flowerpecker Prionochilus percussus ignicapillus
Yellow-rumped Flowerpecker Prionochilus xanthopygius
Scarlet-breasted Flowerpecker Prionochilus thoracicus
Thick-billed Flowerpecker Dicaeum agile modestum
Brown-backed Flowerpecker Dicaeum everetti everetti
Yellow-vented Flowerpecker Dicaeum chrysorrheum chrysorrheum
Orange-bellied Flowerpecker Dicaeum trigonostigma trigonostigma; D.t.dayakanum
Plain Flowerpecker Dicaeum concolor borneanum; D.c.olivaceum
Fire-breasted Flowerpecker Dicaeum ignipectus dolichorhynchum
Black-sided Flowerpecker Dicaeum monticolum
Scarlet-backed Flowerpecker Dicaeum cruentatum ignitum; D.c.nigrimentum
Ruby-cheeked Sunbird  Anthreptes singalensis singalensis; A.s.borneana
Plain Sunbird Anthreptes simplex
Plain-throated Sunbird Anthreptes malacensis malacensis; A.m.borneensis
Red-throated Sunbird Anthreptes rhodolaema
Purple-naped Sunbird Hypogramma hypogrammicum hypogrammicum; H.h.nuchale
Purple-throated Sunbird Nectarinia sperata brasiliana
Copper-throated Sunbird  Nectarinia calcostetha
Olive-backed or Yellow-bellied Sunbird Nectarinia jugularis flammaxillaris; N.j.ornatus
Black-throated Sunbird Aethopyga saturata wrayi
Crimson Sunbird Aethopyga siparaja siparaja
Scarlet or Javan Sunbird Aethopyga mystacalis
Temminck's Sunbird Aethopyga temminckii
Little Spiderhunter Arachnothera longirostra buettikoferi; A.l.cinereicollis
Thick-billed Spiderhunter Arachnothera crassirostris
Long-billed Spiderhunter Arachnothera robusta robusta
Spectacled Spiderhunter Arachnothera flavigaster
Yellow-eared Spiderhunter Arachnothera chrysogenys chrysogenys
Grey-breasted Spiderhunter Arachnothera modesta modesta
Bornean Spiderhunter Arachnothera everetti
Streaked Spiderhunter Arachnothera magna magna
Whitehead's Spiderhunter Arachnothera juliae
Black Oriole Oriolus hosii
Black-and-crimson Oriole Oriolus cruentus
Black-hooded Oriole Oriolus xanthornus
Black-naped Oriole Oriolus chinensis
Dark-throated Oriole Oriolus xanthonotus
White-breasted Woodswallow Artamus leucorynchus
Plain-backed or Pegu Sparrow  Passer flaveolus
Eurasian Tree-Sparrow Passer montanus malaccensis
Brown Bullfinch Pyrrhula nipalensis waterstradti
Red Avadavat or Munia Amandava amandava (introduced)
Tawny-breasted or Green-tailed Parrot-Finch Erythrura hyperythra malayana
Pin-tailed Parrot-Finch Erythrura prasina prasina; E.p.coelica
Green-faced Parrot-Finch Erythrura viridifacies
White-rumped Munia Lonchura striata subsquamicollis
Dusky Munia Lonchura fuscans
Scaly-breasted Munia or Nutmeg Mannikin Lonchura punctulata fretensis
White-bellied Munia Lonchura leucogastra leucogastra; L.l.palawana
Indian Black-headed or Chestnut Munia  Lonchura malacca sinensis; L.m.jagori
White-headed Munia Lonchura maja
Java Sparrow Lonchura oryzivora (introduced)
Baya Weaver Ploceus philippinus
Chestnut-eared or Grey-headed Bunting Emberiza fucata
Little Bunting Emberiza pusilla
Yellow-breasted Bunting Emberiza aureola