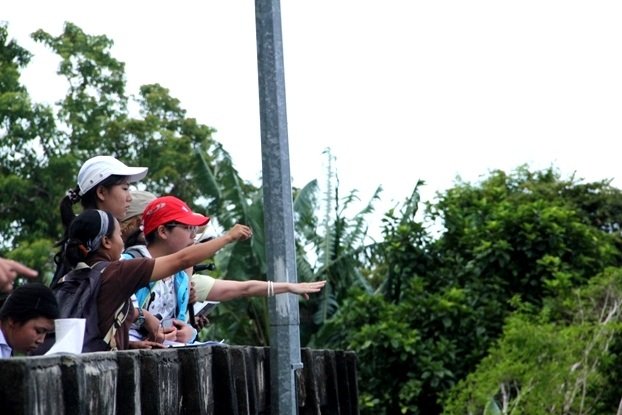 The outdoor environment is the perfect classroom for the study of the natural world. The programs are designed to introduce the students to the wonders of the natural world in a fun, adventurous, and scientific way.
The student will travel to several locations around the Langkawi islands and focus on the differing rainforest, flora and fauna, and marine with the graduation of rivers to estuaries to the shoreline to seagrass and to coral reefs. They will learn the connection between the land and the sea and how what happens on land will affect the sea and subsequently the livelihoods of those that depend on the sea, be it the farmers, fishermen or the tourism industry that Langkawi depends on.
They will learn aspects of biomimicry and participate in a workshop. They will conduct reef checks and other surveys and develop conservation project that they will continue to measure with all subsequent groups. They will discuss larger environmental issues like global warming and the effect that it will have on the delicate coral life.
---
Aims and Goals

A new appreciation of their environments
Understanding the interconnectedness of nature
How up stream activities effect down stream and marine life
Understanding environmental issues
Learn the scientific method
Develop a biodiversity database
Undertake conservation project
To become stewards of the islands
Learn aspects of biomimicry
Itinerary – 3 Days 2 Nights Program

Day 1:
Arrival at Langkawi
Meet and greet with JungleWalla Representative
Transfer to hotel
Check in and rest
06.00pm: Talk by JungleWalla Speaker
07.30pm: Dinner & Briefing by JungleWalla

Day 2:
Early breakfast at the hotel
07.30am: Briefing by JungleWalla and trekking preparation
07.45am: Starts Jungle Trekking.
12.30pm: Lunch and rest
02.30pm: Environment appreciation program. (Conservation program)
07.30pm: Dinner & rest
09.00pm: Talk by JungleWalla Representative
10.30pm: Program ends

Day 3:
Breakfast at the hotel
09.15am: Room check – pack up
09.30am: Briefing
10.00am: Cable Car Ride
11.15am: Cable car down
12.00am: Back at the hotel for check out
12.30am: Lunch
13.30am: Coach Transfer

All programs can be customized to fit school's goals and/or curriculum.
---
---