Irshad Mobarak is one of Malaysia's most celebrated naturalists with over 26 years of experience in the field. A former banker, Irshad is a strong advocate for the conservation of Langkawi's fragile natural heritage. Irshad's main objective is to educate and inspire people to experience Langkawi's rich natural history. A pioneer in Eco-Tourism, he develops a series of " Junglewalla's Signature Tours" that has shaped Langkawi's nature tourism today.
---
In 2005, Irshad Mobarak and Sri Sari who share the passion of birds, joined as owners and establish Natural History Tours Private Limited and continued Junglewalla's commitment to providing fun, safe and ecologically sound tours. While they have always been birdwatchers, being able to combine playtime with work infuses a client's experience with a special kind of pleasure.
---
AND THE WHOLE AMAZING TEAM

Shaaban Arshad | Lead Naturalist
Shaaban comes from a family well-known for their knowledge as traditional Herbalist and Medicine men. Shaaban has inherited much of his family knowledge and has an intimate knowledge of the rainforest and jungle. As a young man he used this knowledge of the rainforest to earn income by collecting herbs to treat the patients that visit his father….more on Shaban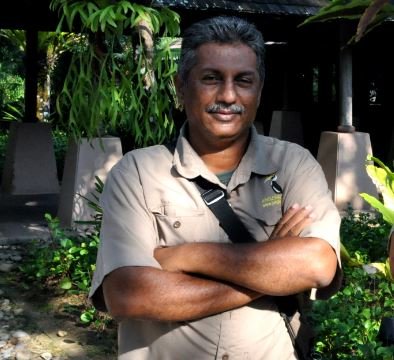 Francis Samuel | Lead Naturalist
Francis has been in the Hospitality industry holding various post from Cost Controller and working his way up as Hotel General Manager for over 30 years. He join JungleWalla team in 2007 as Resident Naturalist and station at The Andaman Hotel. On his tours, Francis ensures that guests come away from our activities, thoroughly enjoying themselves and armed with valuable information. Francis's wealth of knowledge and expertise are so well-known in Langkawi that he is currently also holding the post as teacher/trainer at Langkawi Tourism Academy.
Azri Hussain | Operation Manager
Azri is Junglewalla Manager currently running Junglewalla's day-today operation at the main office in Jalan Tanjung Rhu. He love to design and customizing an outing. For team building and company outing activities, Azri is our go-to-guy.
---
And the rest of the team ensures every trip is as safe, well-organized, and memorable as can be while experiencing Langkawi's rich natural history.