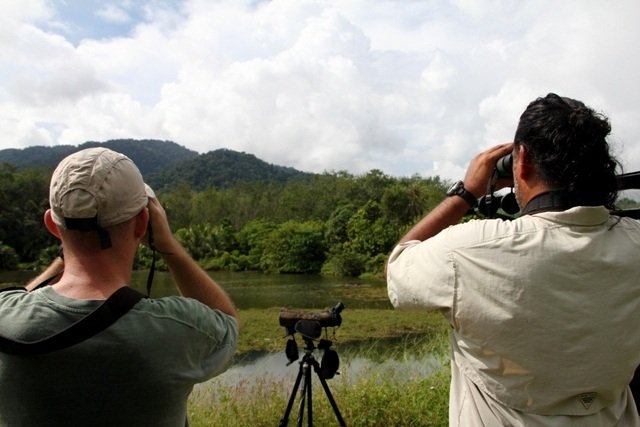 Big Bird & Butterfly Count BBC
Big Bird & Butterfly Count BBBC– a Langkawi Nature Festival LNF Event
The Bird Count was headed by renowned amateur Ornithologist Irshad Mobarak and covered choice locations like Gunung Raya, Bon Ton and other habitats on Langkawi . A total of 74 species of birds were counted on that day. The count was certainly significant to boost further interest in birding and hopefully it will spur on further interest on the subject.
The LNF will be geared toward a celebration of Langkawi Birds & Butterflies. With about 226 species of birds on Langkawi including the magnificent Great Hornbill, the rare Brown Winged King Fisher, the Mountain Hawk Eagle Black Hooded Oriole, Blue Winged Pitta and a host of other magnificent birds. With an impressive count of over 500 species of butterflies not easily encountered on the Peninsular, the butterflies to look out for in Langkawi were the exquisite Green Banded Peacock, cryptic Oak Blues, Crows and Tigers and other winged jewels anticipating!

LNF's aim is to develop a bird & butterfly list of Langkawi Island over a 28 hour field trip that will be named the Big Bird and Butterfly Count.
The Butterfly Count the first of its kind on Langkawi was led by renowned butterfly scientist Dr. Laurence G Kirton and research butterfly scientist and PHD candidate Phon Chooi Khim .
The group was assisted by another PHD candidate from the National University of Singapore and Chairman of the Butterfly Interest Group Singapore Anuj Jain and members of the group as well as long time Langkawi Lepidopterist Selvam Raman .
On the field that day were participants from Langkawi Fair as well a family of 3 . The count though hampered by rain managed to yield 53 butterfly species. Records from this count will be maintained and kept by FRIM in the National Database .
Historical event!. The field trip took the teams to the various natural habitats of birds and butterflies on the Island and armed with a photographic checklist, to identify the various types of birds and butterflies encountered and record them down on the checklist over a period of 24-28 hours.
Brief Itinerary:
24 November 2012 Saturday
07:45 AM Briefing on BBirdC-Irshad Mobarak at Base of Gunung Raya
08:00 AM Big Bird Count Flag Off at Base of Gunung Raya
08:30 AM Briefing on BButterflyC at Lubuk Semilang
9AM–6PM Big Butterfly Count Flag off at Lubuk Semilang
25 November 2012 Sunday
08:00 AM – 11:00 AM : BBBC conclusion at Hotel
11:00 AM : Panel Discussion & Media Conference at Hotel