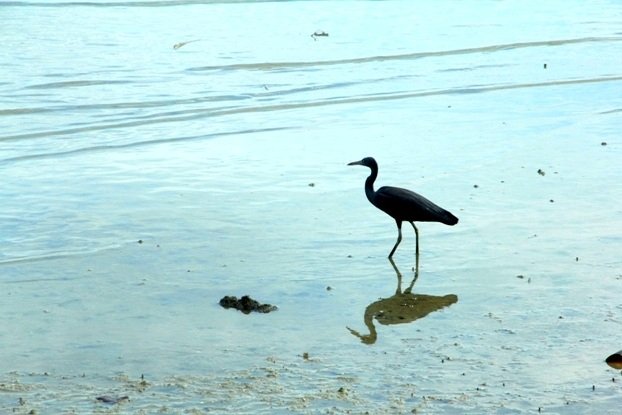 Pulau Aur, Johor
Pulau Aur is located 65km east of Mersing, off Johor's east coast. The island, along with Pulau Dayang, Pulau Lang and Pulau Pinang, are rated among the best diving destinations within the Johor Marine Park Area. The deep waters around the area ensure good visibility and a good variety of marine life.
Pulau Angsa, Selangor
Located off the coast of Kuala Selangor, approximately 67 km from Kuala Lumpur, lies Pulau Angsa, a lush green island that owes much of its history to the Bugis who were among its earliest settlers. Rich in legends and landmarks, you will find the locals only too willing to regale you with tales about Pulau Angsa's colorful past.
Pulau Besar, Malacca
Located approximately three nautical miles off Pengkalan Pernu in Umbai, 10 km south of Malacca town, is Pulau Besar. Covering an area of 133 hectares, it is the largest of eight islands off the coast of Malacca. Believed to be the location of Malaysia's earliest civilisation, it abounds with legends about mermaids and princesses, as well as sacred graves and shrines.
Pulau Carey, Selangor
North-west of Morib, across the sea from Port Klang, is Pulau Carey (Carey Island). Comprised largely of palm-oil estates, the island is also home to the Mah Meri, an aboriginal tribe renowned for their traditional woodcarvings, depicting their ancestral spirits, or moyang. The tribe has kept the legends of their ancestors alive through these figurines and stories told to any willing listeners.
Pulau Indah, Selangor
Near Pulau Ketam is Pulau Indah ('Beautiful Island' in Malay), an island where visitors can experience life in a traditional Malay village. This is the best place to enjoy the rustic and laid-back charms of kampung (village) life, set amidst lush greenery and the Straits of Malacca. Pulau Indah is also the location of Klang's new West Port and cruise terminal.
Kapas Island, Terengganu
About 6 km off the coast of Marang on Peninsular Malaysia's East Coast is Pulau Kapas, an island renowned for its clear waters, sandy white beaches and swaying palms. Relatively isolated from the hustle and bustle of the mainland, this island is the perfect getaway for those looking for some blissful relaxation.
Pulau Ketam, Selangor
North of Pulau Carey is the island of Pulau Ketam (Crab Island) with its picturesque fishing village built on stilts. It is blessed with bountiful fishing grounds and is popular among the locals for its superb seafood restaurants. Pulau Ketam is a great place to savor a variety of seafood specialties, in particular the curry crab.
Pulau Sembilan, Perak
Situated 17 km south of Pulau Pangkor on Peninsular Malaysia's East Coast is Pulau Sembilan. A cluster of nine small islands, the Sembilan Group includes Pulau Agas, Pulau Payong, Pulau Nipis, Pulau Rumbia, Pulau Lalang, Pulau Saga, Pulau Buluh, Black Rock and White Rock. Secluded and uninhabited, the islands are usually popular with campers on weekends and public holidays, especially between the months of November and March. The best island in the group is Pulau Lalang, which has a fresh water stream and a beach ideal for camping.
Pulau Sibu, Johor
Pulau Sibu is a pleasant hideaway, with its lush tropical vegetation, endless stretches of golden beaches and clear blue waters. The island is also dotted with numerous sea caves. The constant pounding of the sea during the monsoon season has given the island a beautiful yet rugged appearance.
Tenggol Island, Terengganu
Tenggol Island is another beautiful diving getaway and lies just 45 minutes off Kuala Dungun in the south of Terengganu state. It is small — just 3 km long and 2 km wide. However, this doesn't stop it from being a paradise for many people especially diving enthusiasts.
Pulau Upeh (Hawksbill Turtle spotting)
One of the Earth's rare turtle species, the Hawksbill Turtle is a medium-sized marine turtle with a hawk-like beak and a thorny shell. Brown and lightly striped, these turtles find their ideal resting ground on the island of Upeh. The egg-laying season is from March to June but visitors can expect to catch sight of at least a few turtles every night throughout the year.