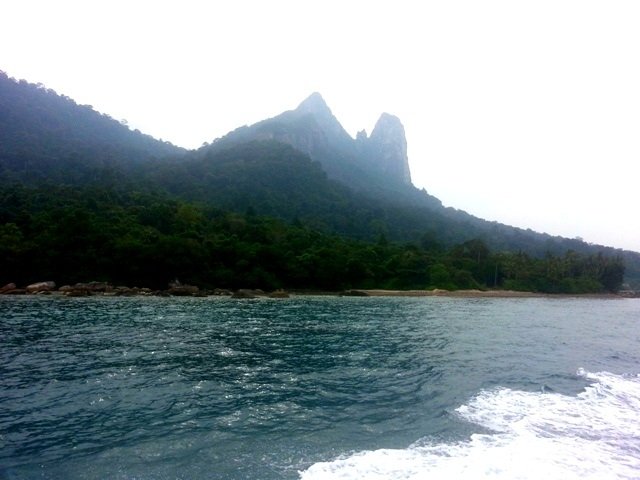 GETTING THERE
By Air
Berjaya Air have a 48-seaters aircraft service from Subang airport in Kulala lumpur.Depating once a day. Flight time is an hour.
By Land/Sea
Get to Mersing from most points of the compass by bus.
From KL, take a bus from Puduraya bus station; from Johor Bahru – Larkin Bus Terminal; On the KL-Mersing route, buses are operated by Transnasional. They leave Puduraya bus station three times per day, at 11.00 am, 10.30 pm and 11.00 pm. Travel time is approx. 6 hours.
From Mersing, take a boat to Tekek village, Tioman. Ferries do not depart on a regular basis, but are dependent on tide levels. Sometimes you wil be transferred by a smaller boat to the waiting ferry, just outside the harbour. Departure times for other boats also vary, and even though you might be given a certain departure time it is common for the boats to wait in the harbour for 30 minutes or more to get as many passengers as possible.
Be patient – you are on holiday! Travel times are approximate, and depend on sea conditions.
MAJOR ATTRACTIONS
If beautiful crystal clear waters, powder soft sandy beaches and bright blue skies are not enough for you on Tioman Island, just look up and you will find undisturbed virgin jungles with strange species of wildlife are unique to the island. Trekking, hiking and rock climbing are fast becoming popular on this island, which is located about 36 nautical miles off the coast of Southeast Peninsular Malaysia.
Although the island is known more for its beautiful marine life and magnificent dive spots, it is now making a name for itself as the perfect destination for the action-oriented visitor.
Another worthy island nearby is Pulau Tulai, which is a perfect destination for snorkelling although it offers more of a 'wade-into-the-shallow-end-and-float' experience for novice divers. Of course, the more adventurous can venture further out where the sea is deeper and the fish and corals are aplenty. Other snorkelling sites worth checking out are Pulau Renggis and Monkey Bay, where corals are abundant.
A trip to Tioman Island does not mean it is only about swimming in clear blue waters and soaking up in the sun. Don't forget your trekking shoes and camping gear as this island has so much to offer to those seeking an adventure holiday. Although the island has 69km of beach interspersed along the coast, it is also made up of pure, verdant forest – a veritable playground for rock climbers, jungle trekkers and nature lovers.
Indeed, more than 60 per cent of the land has been gazetted as a wildlife reserve protected under the National Parks and Wildlife Protection Department. The island's tropical forest has intrigued researchers from all over the world and they have found species such as the tiny blind snake, which is earthworm-like, legless lizards and flying lizards, to name just a few. More common are the mouse deer, macaques, pythons, monitor lizards and flying foxes. In all, there are 22 amphibian, 32 lizard and 26 snake species on the island.
A good place to start your visit here would be a stop at the Tioman Information Centre at Kampung Tekek, opposite the airport. One of the most popular jungle treks on the island must be the four-kilometre cross island trail that goes from Kampung Tekek to Kampung Juara and requires some serious leg work, depending on how fit you are.
Further south of the island is Kampung Mukut, soon to be the centre of outdoor adventure in Tioman due to its rough terrain and surrounding beauty. Among the imposing features here are two outcrops of granite known as Nenek Semukut (Semukut Granny) – so-called because of its eerie resemblance to the profile of a human face – and a 690-metre freestanding granite spire, the highest in Peninsular Malaysia.
There are also some relatively easy hiking routes in Kampung Mukut. One that is worth going up on is the Asah Waterfalls. During the 40-minute hike, you will see the twin peaks with their summit in the clouds as though they were watching over the people of the village.
The village itself is incredibly pretty. The people here take pride in the upkeep of their villages and as you begin your journey towards Asah Waterfalls, you will walk pass well-trimmed gardens, beautifully landscaped paths and quaint wooden bridges – all of which are lovingly and collectively maintained by the villagers. The waterfall is at the convergence of seven different rivers that run through the interior of the island, and a dip in its cool invigorating waters would be just the thing to perk you up for the walk back to your chalet.
For those who prefer a little night-time activity while in Kampung Mukut, night walks can be arranged to stake out nocturnal animals like mouse deer, porcupines, birds and certain species of snakes and insects.