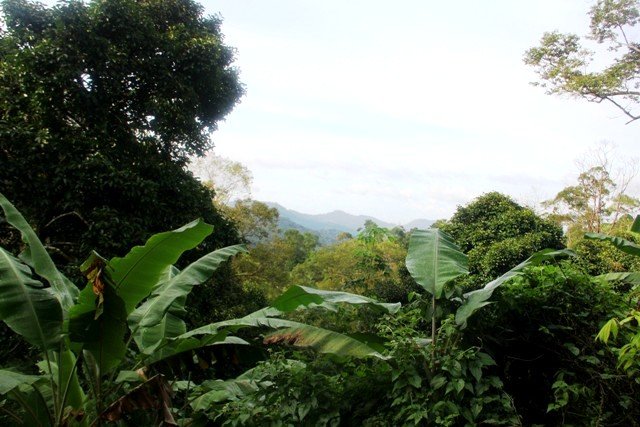 Penang National Park is all lush green and the fragrance of the sea breeze is enchanting. It conveys to us the message of eco-balance that everyone should live life joyfully. Its ecosystem consists mainly of tropical lowland forest with coastal features. Be it beaches, hills, forest trails or even lake, it offers big biodiversity as a national park.
Penang National Park
Jalan Hassan Abas,Teluk Bahang – 11050 Pulau Pinang
Tel : 04-881 3530/ 04-881 2016 – Fax: 04-881 2016
E-mail : tnpp@streamyx.com
Wildlife Department
Tingkat 40, Komplek Komtar
Penang Road, 10000 Pulau Pinang
Tel : 04-261 3039 – Fax : 04-261 0330
E-mail : jphltnpp@streamyx.com
GETTING THERE
North west corner of Penang Island about 230 km from Kuala Lumpur via NorthSouth Expressway. Entrance through the fishing village of Telok Bahang at the end of Batu Ferringhi Road.
THE PARK AT A GLANCE
Size: 2562 ha
Facilities: Nature trails, Camping Sites, simple waterfront chalets, food stalls at Telok Bahang.
Attractions : Natural forests, rare fauna and flora, unique seasonal meromictic lake, nature trekking, camping
Accommodation: Camping State Forestry Department, facilities on site. Full range of accommodation in Penang.
Permits / Access: No permits required. Main access via Telok Bahang about 25 km from Georgetown
Flora & Fauna : Gazetted as National Park in 2003 it is biologically rich and environmentally fragile stand of coastal lowland and hill dipterocarp forest is a rare and unique alural heritage ecosystem in Penang.
Although logged up to 1962 the area is substantially intact, including a pristine virgin jungle stand of about 80 hectares.The diversity of ecosystems also includes steep granite Lonoes and peaks, coastal mangrove forests, moist and shaded gullies, sandy beaches, rocky cliffs, boulder strewn shorelines ard a rare Meromictic Lake.
A web of nature trails allows visitors to experience the natural beauty of the area, and the abundance and diversity of fauna and flora that lives throughout the park. All trails include sections requiring strenuous exertion. Some trails involve hard, rigorous climbing, up and down steep slopes and over large boulders. Trails range from moderately easy 60 minute round treks of about 1 kilometre each way, to tough 5 to 6 hour round treks of about 7 kilometres each way.
The popular trail to the Mulka Head Lighthouse starts near Bahang Bay jetty and follows the coastline of the way. The trail leads past the University Sains Marine Research Station at Aling Bay to sandy beach at Duyung Bay. This section of trail requires climbing over several clusters of large boulders. It is adventurous and challenging but does demand caution. The climb from the beach to the 1883 vintage lighthouse on the top of Muka Head is via steep steps requiring about 30 minutes of vigorous leg pumping. Several other trails traverse the reserve. One leads to the west facing Pantai Kerachut (Kerachut Beach), the site of Malaysia's only Meromictic Lake.
Three species of turtle have been observed at the west facing beaches during the breeding months. Also recorded in the reserve are more than 105 species of birds and 140 species of arboreal and nocturnal mammals, reptiles, insects and amphibia. These include monkeys, otters, mousedeer, wild boar, monitor lizards, flying lemurs, tree shrews, giant fruit bats and pythons. Interesting flora includesstag horn and birds nest ferns, pitcher plants, wild orchids and ginger.
The Meromictic Lake at Pantai Keracut is an unusual seasonal phenomenon that occurs when the fresh water of the monsoon rains combine with the saline water from the Straits of Malacca to form a shallow, high salinity lake, on the foreshore. The dual water compositions in the lake do not integrate with each other but instead form a twolayer stratum, with a seam of warmer fresh water suspended above a seam of cooler saline water, resulting in a state of chemical stratification known as 'meromixis'.
After experiencing the ecological abundance and living beauty of the Pantai Achein Forest Reserve, it is easy to bond with this ancient land and appreciatethe importanceto protect and preserve its biologically diverse, fragile and vulnerable ecosystems as a natural heritage treasure; in perpetuity.