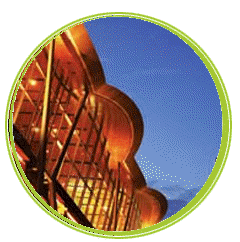 Selangor has many unexplored recreational forests and breathtaking waterfalls to awe even the most widely-traveled visitor. Selangor is dominated by fishing villages on the coast and the Kampung inland. Heading east from KL, it is not the ocean but hills and forests that dominate. This is the beginning of the lush Malaysian heartland, and the spiritual connection to the landscape first takes hold at the extraordinary Batu Caves. Even further inland are the Genting Highlands, one of Malaysia's finest hill stations.
Any direction one takes in Selangor eventually leads to some sight that is deeply connected to Malaysia's development; a tin mine, an oil-palm or rubber plantation – for this reason, the state is often called "the heart of modern Malaysia."
GETTING THERE
Shah Alam is easily accessible by road. It is about 25km from Kuala Lumpur, 169km from Melaka, 393km from Johor Bahru, 400km from Penang and 48km from the Kuala Lumpur International Airport (KLIA). To move around in Shah Alam and Petaling Jaya is convenient as both towns have many bus and taxi services. In addition, the (Light Rail Transit) system in Petaling Jaya is fast and efficient, taking you to your destination in no time.
PLACES OF INTEREST
Shah Alam
The capital city of Selangor is located about 30km west of Kuala Lumpur. It is a city with many beautiful landscaped recreational parks, lakes and modern buildings. The well-planned and modern city is equipped with some of the finest infrastructure.
State Mosque
The Sultan Salahuddin Abdul Aziz Shah Mosque is the largest mosque in Southeast Asia. It incorporates a huge blue dome and four minarets, each standing at 142.3 metres. The dome is the largest of its kind and the minarets are the tallest in the world. This amazing holy place has a prayer hall that can accommodate 7,000 worshippers. Its unique architecture is inspired by ethnic Malay design elements.
Shah Alam Lake Garden
This is the venue for the Shah Alam International Boat Show and Selangor Orchid Exhibition. This man-made lake and its lovely landscaped gardens certainly beautify the town. It is a pleasant place for an evening walk or jog as children run about in typical abandon.
Malaysia Agricultural Park
This is the only agro-forestry park in this part of the world. It measures around 1,290 ha within a tropical jungle. Visitors can visit the agricultural and horticultural plots such as padi fields, fruit orchards, a spice garden and orchid nurseries. For some adventure camping, trekking, picnicking, cycling and hiking facilities are available. Basic chalets are also available for overnight stays.
Shah Alam Gallery
Located next to the Shah Alam Lake, the gallery houses five arcades, an open stage, two mini studios and a hall. Displays of outstanding masterpieces, handicrafts and fabrics are for viewing and sale as well. Admission is free.
Sultan Alam Shah Museum
This museum with its prominent blue roof is situated next to the Raja Tun Uda Library Complex. It houses artefacts related to the state's history, culture and heritage, the sultanate, sports and art within nine galleries.
GOMBAK
Orang Asli Museum
Located at Kilometre 24 of Jalan Gombak, this museum showcases artefacts such as hunting tools, animal traps, household items and crafts related to the Orang Asli. Orang Asli are the aborigines of Peninsular Malaysia. This is the best place to learn more about their lifestyle, traditions and culture.
Batu Caves
About an hour's drive from Shah Alam, Batu Caves is a major tourist spot that never ceases to fascinate. It has a history that dates back to more than a century and is reputed for its famous Hindu shrine where more than 100,000 worshippers gather annually during Thaipusam. One has to climb 272 steps to reach the temple where magnificent statues of Hindu deities are erected. Monkeys and a wide variety of birds can also be found in the caves.
Commonwealth Forest Park
This park was launched in 1993 to honour the 14th Commonwealth Forest Meeting. It features a lush jungle with refreshing landscaped gardens, camping grounds, chalets, fountains, jogging tracks, hiking trails and other facilities for visitors. The park provides the ideal escape from the city's hustle and bustle to serene nature.
KUALA SELANGOR
Bukit Melawati
This landscaped hill features historical attractions such as the Altingsburg Lighthouse, the Royal Mausoleum, the ruined Melawati fort, the legendary 100 Steps and a fabled execution block. Visitors can also enjoy a panoramic view of the Selangor coast and the Klang Valley from atop the hill while enjoying the rejuvenating fresh air.
Kuala Selangor Nature Park
Covering 330 ha of mangrove swamps and home to various wildlife such as otters, silver-leaf monkeys, birds, crabs of different hues and mudskippers, visitors can also choose to stay in chalets and hotels overnight and check out the visitors' centre for information and souvenirs.
Firefly-watching
The Selangor River is apparently one of only a few places in the world that has millions of resident fireflies flashing synchronously. When thousands of these fireflies gather on trees, their shinning and glittering mass appears like shimmering stars. This wonderful sight can be viewed within a few kilometres from the Kampung Kuantan jetty. Villagers offer regular boat services that bring visitors slowly up the river to catch a glimpse of these unique bugs.
Petaling
This town comprises districts like Damansara Utama, SS2, Damansara Jaya, Bandar Sunway and Taipan Triangle. It is a town with many fine restaurants, hip watering holes and entertainment centres. They keep mushrooming around these areas to cater to partygoers and visitors. The town comes alive at night with activities that continue late into the night.
Darul Ehsan Tourist Centre
A convenient stop for tourists as it is a hub that provides information on Selangor. It houses user-friendly touch screen kiosks, which assist tourists in finding details on places of interest and upcoming events. Lovely handicrafts are also sold here.
Paya Indah Wetlands
Paya Indah Wetlands is indeed a sanctuary for nature and ecology lovers. It is a peat swamp forest with lakes and remarkable flora and fauna. This forest is home to over 210 species of birds and other animals such as hippos, pelicans and crocodiles. It also serves well as an educational centre for exploration of nature, wildlife and ecology.
BEACHES AND RESORTS
Pulau Ketam
Take a boat ride from Port Klang (eight kilometres South of Klang Town) and visit Pulau Ketam ( Crab Island). It is a wonderful island with scenic landscapes and is an ideal fishing venue. It is also known for mouth-watering seafood and friendly people.
Pulau Carey
Across the sea from Port Klang is Pulau Carey, which is mainly covered by oil palm estates. The island is also home to the Mah Men, an aboriginal tribe well known for their traditional woodcraft based on their ancestral spirits.
Bagan Nakhoda Omar Beach
Located in the Sabak Bernam district, this beach is accessible via a tarred road that passes several villages. It features sun, sand and sea and is a quiet retreat.
Bagan Lalang Beach
Just 30 minutes from the Kuala Lumpur International Airport (KLIA), Bagan Lalang Beach offers horseback riding and a wonderful view of the sunset, among other activities.
Morib
Morib is a seaside spot that is located in the Kuala Langat district, and is equally idyllic with many food stalls that cater to visitors during weekends.
WATERFALLS
Selangor has two spectacular waterfalls in the Hulu Langat district that will take your breath away. The Sungai Gabai Waterfall has several water cascades that plunge over 100 metres into a series of pools that are excellent for swimming. It is splendid spot for picnics and relaxation. The other waterfall is the Sungei Batangsi Waterfall, which is no less exciting.
RECREATIONAL FORESTS
Selangor is endowed with several recreational forest and parks. Templer's Park is set within a lush green forest and limestone hills with waterfalls, natural pools and trekking trails. On the other hand, rock climbers will be happy to know they have a new outcrop to conquer at Bukit Takun. Meanwhile, the Forest Research Institute of Malaysia (FRIM) is located in Kepong, 15km from Kuala Lumpur. It is a forest reserve and houses a forest museum, a canopy walk and flora with their names labelled on them. Other recreational forests in Selangor include the Sungai Congkak Recreational Forest, the Sungai Tekala Recreational Forest, the Ampang Recreational Forest, the Gunung Nuang Recreational Forest, the Sungai Pertak Recreational Forest, the Sungai Tua Recreational Forest and the Kanching Recreational Forest.
AGROTOURISM ATTRACTIONS
Banghuris Homestay
This place allows visitors to experience the village lifestyle and culture of traditional Malay people. There are three kampungs (villages) here, namely Kampung Bukit Bangkong, Kampung Hulu Chuchuh and Kampung Hulu Teris. The villagers in these villages are warm, friendly and hospitable. Visitors can learn the culture and tradition of a Malay wedding, traditional Malay dances and be amazed by their martial arts. Visitors can also pamper themselves to a traditional herbal massage. Among other interesting activities you can indulge in are rubber tapping, cooking some Malay dishes, going for an evening walk at the fruit orchards and oil palm estates and taking a sampan ride on the river. Banghuris is just a 50-minute drive from Kuala Lumpur and 30 minutes from Kuala Lumpur International Airport (KLIA).
THEME PARKS
Selangor is home to two of Malaysia's largest and most famous theme parks – Sunway Lagoon in Bandar Sunway and Mines Wonderland in Seri Kembangan. Both theme parks offer unlimited excitement and thrills and spills, which include fun water activities, virtual experiences, games, adventures and rides. Other smaller theme parks in Selangor are the Kajang Water Theme Park and Wet World Water Park.
Sunway Lagoon
Living up to its theme 'Feel The Fun', Sunway Lagoon definitely provides both entertainment and excitement. The park can accommodate up to 70,000 visitors a day. Its three themed areas are World of Adventure, Wild-Wild West and the all-new Waters of Africa. Each has its own unique attractions. The Waters of Africa boasts 11 must-try slides on the Cameron Climb, African pythons and Congo Challenge. Its retail and food and beverage outlets have also been given a new image with a blend of exotic African themes. Shopping is exciting at the Sahara Boutique or by the beach at the Mozambique Reef Shop, or you can grab a snack at Cape Town Café, Botswana Burgers and other outlets around the Park. Colourful events and fun shows are organised daily to spice up all the fantasy and wonder.
The Mines Wonderland
This is another fantastic theme park, which was transformed from the world's largest opencast tin-mining lake into a hot tourist spot. It is the perfect theme park for family outings and is only 15 minutes from Kuala Lumpur. Its popular Snow House allows you to experience a winter wonderland in a tropical climate. Other favourites include the musical fountain that dances to your delight and the roller coaster that is just thrilling. Among the other attractions here are the spring garden, mini golf and water sports like water-skiing and jet skiing.
SHOPPING
Selangor is definitely a shopper's paradise. It caters for all kinds of pockets, styles and preferences. Its retail range begins from exclusive high-end products to good bargains. Sunway Pyramid, The Mines Shopping Fair, 1 Utama Shopping Centre and Ikano Power Centre are the major shopping havens within Selangor.
1 Utama Shopping Centre
1 Utama is located in the township of Bandar Utama. The mall has simplistic architecture and originally measured over 2 million sq feet. Its recent expansion has added another 3 million sq feet to its gross built-up area. This popular shopping mall houses a wide range of retail outlets that allow you to shop, shop and shop, while a Cineplex, an entertainment centre, food chains, coffee joints and juice bars let you take a break every once in a while. 1 Utama is considered one of the most successful integrated shopping malls in the Klang Valley.
Sunway Pyramid
The Egyptian Pyramid inspired the architecture of this mall. Be ready to choose from a huge variety of merchandise with popular international and local names. It houses more than 300 specialty outlets and a one-stop IT centre as well. For some amusement after your shopping adventure, make your way to the ice-skating rink, the 48-lane bowling centre or enjoy a movie at the 10-cineplex Tanjung Golden Village cinema.
The Mines Shopping Fair
Experience shopping amidst the Venice-like environment as the mall has a canal running through it where you can sit in a boat after a long day of shopping. Apart from the countless retail stores, Mines incorporates an ice-skating rink, Laser Quest and the Snow & Smart Town – Malaysia's biggest and coolest indoor theme park. This shopping mall is located in Seri Kembangan.
IKEA and Ikano Power Centre
IKEA applies its unique design philosophy and functionality to all its creations. It also has a café that offers lovely Swedish delicacies under its roof. Adjacent to IKEA is the newly opened Ikano Power Centre, which houses numerous anchor tenants and restaurants with generous floor spaces for added shopping convenience.
SPORTS & LEISURE
Selangor is a land for golf enthusiasts as it has more than 30 golf courses. The premier ones include Monterez Golf & Country Club, Perangsang Templer Golf Club and Saujana Golf & Country Resort. Apart from its fine golf courses, these clubs also offer tennis courts, squash courts and swimming pools for the fitness-minded traveller. For adventure seekers, Sungai Selangor is the place to go for white-water rafting.
EDUCATION TOURISM
Selangor offers world-class education at affordable prices. A wide range of courses at various levels is available from pre-university to Ph.D. Fully-equipped with sophisticated infrastructure and convenient facilities; the state has become a major higher education destination for students from all around the world.