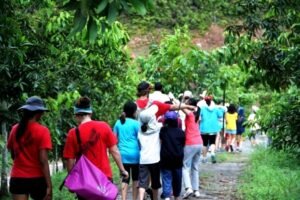 In conjunction of Malaysian Nature Society Green Month Campaign to be held for one month, beginning on the 31st October 2009 to November 30th 2009, Malaysian Nature Society Langkawi invited hotels to participate in an island and hotel wide coordinated tree planting program.
We proposed that as a gesture hotels could consider planting 30 tree saplings within hotel's property. The species of trees has been specially chosen to attract birds especially the Hornbills, Bulbuls, Flowerpeckers and the stunningly beautiful Asian Fairy-bluebirds. Hotel guest to participate in this activity as well.
Malaysian Nature Society hope that hotels would invite in house guest to participate in mitigating climate change by voluntary pledging to turn off their room lights for an hour between 7 pm until 8pm daily for the duration of the month of the campaign.
Green Month Campaign Activities open for Public include :
31 -31 October 2009 – 10.00am – 3.00pm
Flea market at Laman Padi – Pantai Cenang
31st October 2009
Nature Walk at Frangipani Langkawi – 8.00am and 6.00pm
Human Signage at Pantai Cenang and Pantai Tengah – 3.00pm to 6.00pm
Beach Cleaning at Pantai Cenang and Pantai Tengah – 6.00pm to 7.00pm
Jamming Session with Zainal Abidin and Ning Baizura
Frangipani Langkawi – Mentari Restaurant – 9.00pm to 10.00pm
1st November 2009 at Frangipani Langkawi
Treehouse Project – 10.00am to 10.45am
Creating Posters and Cards Competition 11.00am to 12.30noon
Understanding your green rights by Eco Knights 2.00pm to 3.00pm
Arts and Crafts Workshop – 3.30pm – 5.00pm
Children Chicken Dance – 5.00pm – 6.00pm
Rain Water Harvesting – 11.00am – 11.30am
Life in the Ebbs – 11.30am – 12.30noon
Ways to reduce carbon footprint – 2.00pm to 3.00pm
Organic Menu Demo – 3.30pm to 5.00pm
Green Fitness & Sepak Raga – 5.00pm to 6.00pm
Primary Students Workshop at Frangipani Langkawi
Recycle Musical Instrument – 9.00am to 10.00am
Secondary Students Public Workshop at Frangipani Langkawi
Worm Farming – 9.00am to 10.00am
Eco Enzyme – 10.00am – 10.45am
Information acquired from
Malaysian Nature Society Committee – Langkawi Branch
** The Above activities, time and date subject to changes depending on weather.