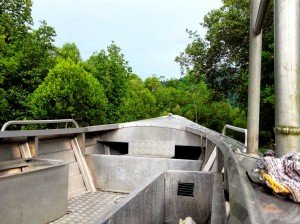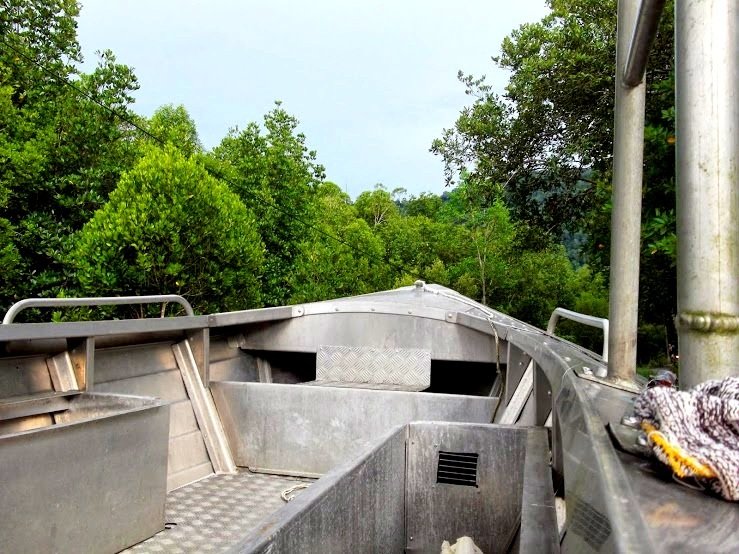 Rain however doesn't stop many of our adventurous guests to join us, although there is some who opted to cancel their participation and we dully send back and cancel charges. We launch JungleWalla custom made zero emission boat on the 14th of July at Kubang Badak Jetty with the community and plan start new tour in this river.Kubang Badak is a smaller mangrove area from those of kilim and tanjung rhu river, it is however a quiet and serene place. We have been doing our kayaking trips in this river. We are pleased to report that we met the residence otter family with over 20 members. The resident Brown-winged Kingfisher is most particularly friendly to our boat man who is a fisherman from the area and they have been acquaintance for a while.
From the field, Indra our birding guide reported on the 28 July at about 5.00pm, a shocking observation of a juvenile Great Hornbill being killed by a pair of Mountain Hawk Eagle. A pair of Mountain Hawk-Eagles dived down from above a flying pair of Great Hornbill with young; the first Mountain Hawk-Eagles hit the juvenile Great Hornbill, but is not able to grab hold. As the juvenile Great Hornbill is falling from the sky the second Mountain Hawk-Eagles catches it as it is falling and takes it away. He did not able to see what happens after this.
Early august Soothy Tern landed at the datai bay and soon after died. We have bury reported it to birdiwitness to add in to Langkawi's list.
A friend of our who lived at the foothills of gunung raya reporting that he spotted what he suspect to be clouded leopard. It was spotted high on the tree and looking down at his direction. But it then quickly turn and left. We however cannot confirm this report.
We often get request from nature photographer enthusiasts to make arrangement for them and show around Langkawi wildlife and scenic view of Langkawi. We now made this available on our website under nature photography category.
Our Chief Irshad is just back from a trip to Sulawesi and the report is now available at Bird Malaysia – Bird Talk. Tourism Malaysia is setting up a booth in Rutland Bird Fair this year and he will be one of the delegates representing Bird-malaysia.