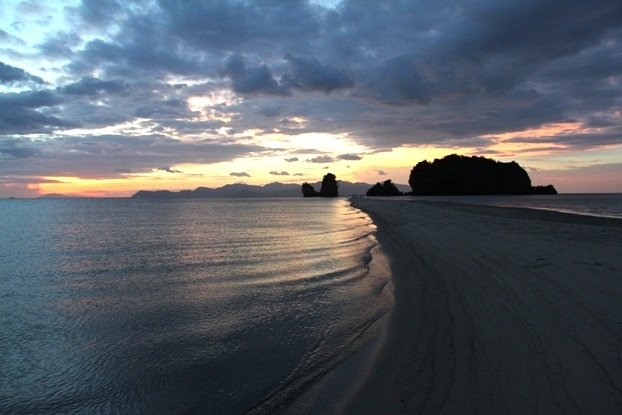 Located at the northern tip of Peninsular Malaysia – where the Straits of Malacca meets the Andaman Sea and the Indian Ocean – this duty-free paradise also offers holidaymakers majestic views of mountains, lush greenery and unexplored swamps and caves. For those interested in history, Langkawi is famed for its intriguing heritage of fabulous myths and legends about ogres, gigantic birds, heroic warriors, princesses, epic battles and romance.
GETTING THERE
alaysia Airlines and Air Asia fly directly from Kuala Lumpur to Langkawi daily. Ferries to and from Langkawi can be boarded at Kuala Kedah (75 minutes travel time) or Kuala Perlis (45 minutes) on the mainland. Driving from Kuala Lumpur to Kuala Kedah and Kuala Perlis takes about six and seven hours respectively.
BEACHES
Langkawi is paradise for beach lovers. Pantai Cenang, the liveliest beach, makes a perfect spot for you to escape and unwind. Visitors can choose to swim, jet ski, water ski, wind surf or go catamaran sailing and boating. One popular beach that is next to Pantai Cenang is Pantai Tengah. A small cape separates both beaches. Pantai Kok and Burau Bay are two beautiful beaches located next to each other. They offer clean beaches and tranquil waters. The two beaches are lined with holiday resorts of very good quality and standard. For food lovers, a variety of local and international cuisine is available in all the hotels here. There is also a cable car station in Burau Bay. You can take a ride up to Mount Mat Chinchang from the station. The Datai Bay Resort features an excellent 18-hole golf course that overlooks the sea. The makes an idyllic destination for golf enthusiasts.
Tanjung Rhu offers another magnificent beach for sun, sea and sand lovers in a cape in the northern most tip of the island. It is a scenic and unspoiled enclave nestled in the shade of swaying casuarinas trees. You can hire a boat from Tanjung Rhu, which will take you to Gua Cerita, a cave worth exploring.
MARINE PARKS
This wonderful marine park is located at the northern part of the Straits of Malacca, 19 nautical miles south of Langkawi. It comprises four islands, namely Pulau Payar, Pulau Lembu, Pulau Segantang and Pulau Kaca. These islands were cordoned off as marine parks in 1985 and are sanctuaries for marine life. Pulau Payar is one of the best diving sites in West Malaysia. This is a paradise for scuba divers as the waters here are teeming with colourful fish and corals. This fascinating underwater kingdom will definitely take your breath away.
Another spot that you will not want to miss is the ' Coral Garden', an excellent dive spot. It is a water wonderland with a dazzling array of coral forms and marine life such as sea squirts, hermit crabs, sea anemones, sea slugs, rockfish, ghost fish, lionfish and barracudas. There are also artificial reefs at Pulau Kaca and Pulau Lembu. These spots have an abundance of colourful marine life too.
The park is open all year round but the best time to visit it is between February and November. It takes about an hour to reach the island from Langkawi.
WATERFALLS
Durian Perangin Waterfall
This lovely 14-tier waterfall with its unique rock formation is located 16km from Kuah and is a great place for picnics.
Telaga Tujuh (Seven Wells)
This waterfall is believed to be the place where fairies come out to play and bathe. At the top of this waterfall are seven interconnected wells through which the water flows.
LAKES
Tasik Dayang Bunting ( Lake of the Pregnant Maiden)
The largest lake in Langkawi, Tasik Dayang Bunting carries many legendary tales. This freshwater lake is splendid for picnicking and swimming. It is also believed that hopeful barren women will be granted their wish if they drink the magical waters from the lake.
ISLANDS
Pulau Singa Besar
A sanctuary for wildlife such as monkeys, deer, iguanas and peacocks, you can walk around this island by using ready-made walkways and clearly marked jungle trails. There are no hotels or chalets here, as the authorities want to protect the natural habitat. However, camping is allowed. Camping equipment, basic showers and toilets are available.
CAVES
Cave explorers can expect to find many interesting grottos to discover on Langkawi. They are not limited to those described hereafter as others like Gua Dangli, Gua Pasir Dagang, Gua Balai, Gua Layang, Gua Landak, Gua Dedap are also worth visiting.
Cave of Stories
This cave is easily accessible by boat from Tanjung Rhu. Gua Cerita or Cave of Stories is Langkawi's most famous cave. On the walls are some ancient inscriptions, said to verses from the Holy Koran.
Gua Pinang
Located off a tributary at Kuala Kubang Badak, this cave is situated in an area which was under the sea for thousands of years. Expect to see ancient seashells embedded in the cave walls.
Gua Tok Sabong
This cave is located in the Teluk Yu area. It has the most impressive stalactites and stalagmites, many of which gleam like marble.
Gua Siam
This cave is in a mangrove swamp in the northeastern corner of the island at Sungai Batu Gajah. Primitive tools and skeletal remains have been discovered here.
Gua Buaya
Gua Buaya or Crocodile Cave was once home to crocodiles. Today it is occupied by thousands of bats. Small boats can enter the cave through the Kilim River, which flows into the cave.
Gua Kelawar
It is named after its inhabitants, the Malaysian Fruit Bat. You can walk along a wooden platform through the mangrove swamp that leads directly to the caves.
SHOPPING
Shopping is Langkawi is exciting as it is a duty-free island. If offers a variety of local and foreign goods. Visitors can buy a carton of cigarettes and a bottle of liquor without paying duty if they stay 48 hours or more. The island's duty-free shops can be found in and around Kuah town. The modern Langkawi Fair Shopping Mall is the best place to start your shopping spree. Elsewhere, the Jetty Point Duty Free Complex is popular with visitors leaving Langkawi on ferries. It is only a five-minute taxi ride from Kuah.
Kuah
This is the largest town and also the capital of Langkawi. The port for ferries from Kuala Kedah, Kuala Perlis and Georgetown is located here, with the Langkawi International Airport just 20km from town. Major shopping complexes and chic hotels are concentrated in this modern part of Kuah, whereas in the oldest part you can see Malaysian style coffee-shops, duty-free stores and budget lodges in colonial-style shop houses. You can also sample tasty seafood in the small restaurants operated by the locals. Bazaar stalls can be found everywhere.
Dataran Lang
Dataran Lang or Eagle Square is situated near the Kuah Jetty. Its main attraction is a massive reddish brown eagle statue, which is a symbol of Langkawi. It features scenic ponds, bridges, covered terraces, two restaurants, and an amphitheatre and two jetties. Its cool, soft breeze makes it an ideal spot for leisurely walks and dining in the evenings.
Taman Legenda
This scenic park features sculptures and monuments that reflect the legendary Island of Langkawi. It covers 20 ha of land and its garden is a display of colourful local blooms, plants and fruit trees. You can find some fine examples of traditional Malaysian handicraft and cultural objects here.
Makam Mahsuri (Mahsuri's Mausoleum)
Located 12km northwest of Kuah this mausoleum was built in honour of Mahsuri, a fair island maiden who was accused of adultery and unjustly executed. A house of Kedahan architecture housing artefacts and furniture from the era can also be viewed near her tomb area.
Laman Padi Langkawi
Located at Pantai Cenang, it showcases the history, heritage and development of the nation's rice growing industry. There is a rice museum displaying artefacts, charts and photographs and they showing the significance of padi cultivation in the country. You can even try your hand at planting padi the traditional or modern way.
Galerie Perdana
This gallery in Kilim comprises two double-storey buildings within a beautiful landscaped garden. It holds an impressive collection of over 10,000 gifts and awards presented to former Prime Minister Tun Dr Mahathir Mohamad and his wife Tun Dr Siti Hasmah Mohd Ali. The exhibits include plaques, crystal ware, musical instruments and Islamic arts and crafts. Outside the gallery there is a display of various cars and other vehicles.