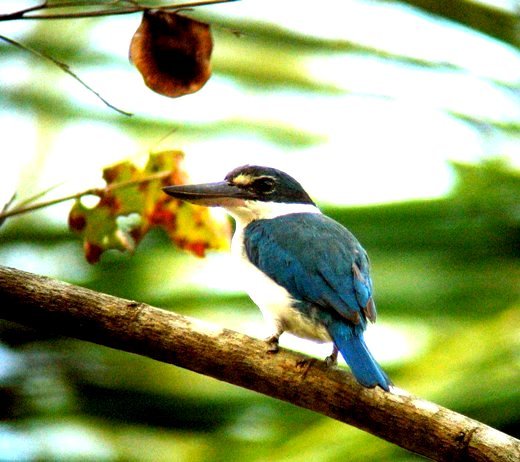 Morning Birding in Langkawi
The very next morning, my aunt took me along to go "Bird Watching" with two of the most pleasant and cheerful tourists I have ever met. We left the house at 6.45 am, right after a quick breakfast at a small local stall; we headed towards Pelangi Beach resort and picked up our guests. We headed towards a small paddy field nearby. It was a little shocking for me because I never really thought one could find many birds together in such a small area. It was a pleasant view for the tourist as well as for me.
Next we headed up to Gunung Raya hoping to spot "The Great Hornbill". While waiting for the Hornbills, we are accompanied by a group of shy macaque whose Alpha male was keeping an eye on us. We also spotted a group of "Dusky Leaf Languor", one of which was carrying an infant baby (the baby languor was still orange !!).
After waiting for about 15 minutes, we could hear the marvelous hornbills flapping their powerful wigs to get to their destination. After awhile, we also heard a "Wreathed Hornbill" calling for it's female. Not long after that, he was visible to us. I do not know about the rest of the birds but he was breath taking to me, he was my favorite bird. . It is amazing how beautiful he truly was, he looks so prehistoric, with bright yellow gular-pouch, black wing and white feather tailing behind him as he flies. We also spotted a few more "Oriental Pied Hornbill, a wagtail that keep wagging its tail and keep flying in front of our car and a pair of Hill Myna there".
The session was almost over but not just yet. We drove down to Teriang that located nearby the mangrove swamp and spotted many more wetland birds. See full bird list below.
Thanks for reading..
Shakira
Full Birdlist – on 10 March 2008
No./COMMON NAME/SCIENTIFIC NAME
1. Bulbul, Yellow-Vented Pycnonotus goiavier
2. Coucal, Greater Centropus sinensis
3. Crow, House Corvus splendens
4. Dollarbird Eurystomus orientalis
5. Dove, Spotted Streptopelia chinensis
6. Drongo, Greater Racket-Tailed Dicrurus paradiseus
7. Eagle, White-Bellied Sea Haliaeetus leucogaster
8. Egret, Cattle Bubulcus ibis
9. Egret, Great Casmerodius albus
10. Egret, Intermediate Mesophoyx intermedia
11. Egret, Little Egretta garzetta
12. Flowerpecker, Orange-Bellied Dicaeum trigonostigma
13. Heron, Chinese Pond Ardeola bacchus
14. Heron, Little Butorides striatus
15. Hornbill, Great Buceros bicornis
16. Hornbill, Oriental Pied Anthracoceros albirostris
17. Hornbill, Wreathed Aceros undulatus
18. Kingfisher, White-Throated Halcyon smyrnensis
19. Kite, Black-Shouldered Elanus caeruleus
20. Kite, Brahminy Haliastur indus
21. Lapwing, Red-Wattled Vanellus indicus
22. Munia, Black-Headed Lonchura malacca
23. Munia, White-Rumped Lonchura striata
24. Myna, Common Acridotheres tristis
25. Myna, Hill Gracula religiosa
26. Oriole, Black-Naped Oriolus chinensis
27. Green Pigeon, Pink-Necked Treron vernans
28. Pipit, Richard's Anthus richardi
29. Sandpiper, Common Actitis hypoleucos
30. Shrike, Brown Lanius cristatus
31. Sparrow, Eurasian Tree Passer montanus
32. Sparrow, Plain-Backed Passer flaveolus
33. Starling, Asian Glossy Aplonis panayensis
34. Sunbird, Olive-Backed Nectarinia jugularis
35. Swallow, Barn Hirundo rustica
36. Swallow, Pacific Hirundo tahitica
37. Swallow, Red-Rumped Hirundo daurica
38. Wagtail, Yellow Motacilla flava
39. Waterhen, White-Breasted Amaurornis phoenicurus
40. Weaver, Baya Ploceus philippinus
41. Whistling-Duck, Lesser Dendrocygna javanica