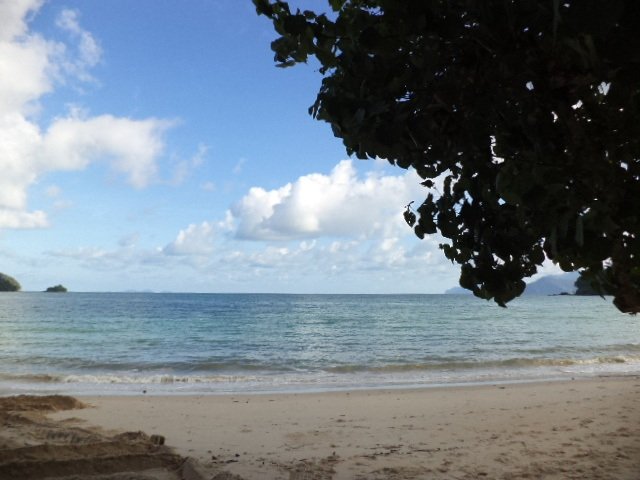 Pangkor's main attractions are undoubtedly the wonderful offerings of its pristine beaches on the western coastline. Named after a legendary lovelorn princess, Golden Sands Beach, or Pantai Puteri Dewi, is one of the most popular beaches on the island. Located on the north-west of Pangkor, this 1.2 km stretch boasts warm turquoise water fringed with tall swaying coconut palms.
The beach here is ideal for sunbathing and recreational activities such as jet skiing, water skiing, parasailing, canoeing, catamaran sailing, windsurfing, scuba diving, and bird watching. Look out for hornbills that roam the area.
Tourism Malaysia Perak
Phone: 603-2615 8527
Fax: 603-2692 4554
Email: rohaiza@tourism.gov.my
GETTING THERE
By Sea
Pangkor is a 40-minute ferry ride from Lumut. There are departures every half hour.
By Air
The private carrier Berjaya Air flies 5 times a week from the Sultan Abdul Aziz Shah Airport just outside Kuala Lumpur to Pangkor.
MAJOR ATTRACTIONS
Across the Manjung Straits opposite Lumut is a bustling fishing village on Pulau Pangkor, the largest of nine islands in a small group of islands. The name Pangkor might have originated from the Thai word Pang Ko meaning 'beautiful island'.
However, others believe it might have been named after Pang Kui, a legendary Chinese adventurer said to have lent his skills in seamanship to bands of pirates this island once sheltered.
Pangkor, with its quaint mix of fishing settlements and resorts, is a fascinating holiday destination. It presents the visitor the rare chance to live near fishermen and observe their lifestyle, or to simply enjoy the fine beaches and resort amenities.
The fishermen live in scattered settlements on the eastern side, facing the town of Lumut and Teluk Batik. Visitors get a chance to see some of them on the 40-minute ferry ride from Lumut as the ferry stops at the main settlements of Sungai Pinang Kecil and Sungai Pinang Besar before landing at Pangkor Town.
Pangkor's two popular beach areas of Pasir Bogak and Teluk Nipah offer sun and sea enthusiasts activities like scuba diving, snorkelling, wind-surfing and fishing. While Pasir Bogak is quite developed, Teluk Nipah still retains its kampung, or village, atmosphere.
The island has accommodations to suit every budget and visitors can hire vans and motorbikes for island sightseeing. Food is available in most locations around the island and there are some good seafood restaurants in Pangkor Town itself.
Pangkor Beaches
Pasir Bogak
This narrow stretch of white sand is one of the most popular spots for tourists from the mainland and gets crowded during holiday seasons and weekends. There are shallow, crystal clear waters and areas of still unspoilt coral reefs for snorkelling enthusiasts.
Teluk Ketapang
North of Pasir Bogak is Teluk Ketapang, or Turtle Bay, where the turtles make an annual pilgrimage to lay their eggs. The best months for turtle watching are between May and July.
Teluk Nipah
Teluk Nipah further north has a wider beach and is less crowded. It is a beautiful strip of beach, and at a place known as Coral Bay, the water is a beautiful emerald green.
Pantai Puteri Dewi
This beautiful beach paradise was named Pantai Puteri Dewi (Beach of Lovely Princess). Pangkor Island Beach Resort (formerly Pan Pacific Pangkor Island) has a prime location along this stretch of beach and offers elegant rooms and facilities, including a sports complex and a golf course. There are some wildlife to be found here, including monkeys, lizards and hornbills.
Pangkor Laut
On the nearby island of Pulau Pangkor Kecil is the Pangkor Laut Resort, an international standard resort. The beach at Emerald Bay is touted as one of the best Malaysian beaches.