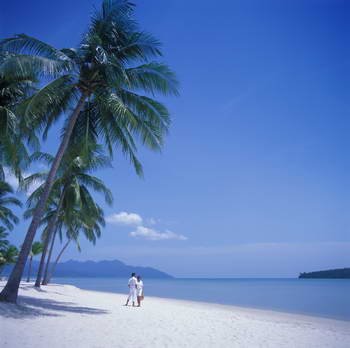 Other forms of recreation include learning to fly an ultra-light aircraft; go-karting; jungle trekking; horseback riding, archery and off-road adventures.
The annual sporting extravaganza Desaru International Triathlon attracts participants from throughout the region.
Just a few kilometres away, discover more about the lifestyle of local fishermen at Tanjung Balau Fishermen's Museum.
Some 10km south of Desaru is another excellent stretch of beach known as Teluk Ramunia.
Accommodations include hotels, budget chalets, dormitories and camp sites. Most notable is the luxurious Desaru Golf and Country Club resort, which has a 36-hole international standard golf course.
HOW TO GET THERE
By Road
Desaru is easily accessible via public transportation from Johor Bahru (the capital of Johor), Kota Tinggi or Tanjung Belungkor. Buses to Johor Bahru are available from Kuala Lumpur.
By Sea
There is a ferry service from Changi Point in Singapore to Tanjung Belungkor, where transport to Desaru can be arranged.