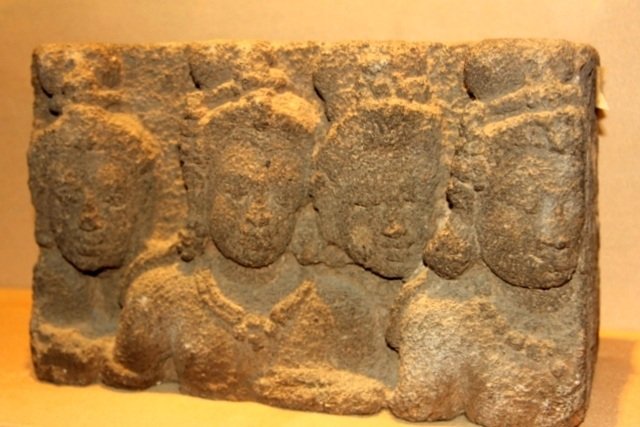 Bujanga Valley of the Dragons
As our boat meanders up the rivers surrounded on both sides of the river by dense mangrove swamps we may have opportunities to observe Monitor Lizards, Little Herons, Brahminy Kites, Sea Eagles and Kingfishers. Sungai Batu is sited at the base of Mount Jerai, once rich in magnetite, haematite and geotite.
Ancient Indian (Tamil) records from the Cangkam Period (200BCE to 200CE) specifically refer to iron imported from this area (then known as Kataram). We will visit several archaeological sites including its modest Archaeology Museum to observe artifacts retrieved from the digs. To date, 97 sites have been identified including a sunken ship, not far from this riverside jetty. They show the existence of a Hindu/Buddhist civilization that used the valley as a trading centre from the 1st to 14th century.
Join us on a fascinating journey to 'Bujanga' and let us together unravel the historical puzzle of a lost civilisation, considered as South East Asia's most important discovery in several decades,  almost a thousand years older than Angkor Wat and Borobudur.
ITINERARY
| | | |
| --- | --- | --- |
| 8.00 | am | Pick up from Straits Quay Tourist Center |
| 9.00 | am | Explore the Merbok River by boat and learn of the importance of this river and its ecosystem |
| 11.00 | am | Visit Sungai Batu archaeological dig, site of the oldest civilization in South East Asia |
| 11.45 | am | Arrive at Museum and tour their indoor and outdoor exhibits |
| 1.15 | pm | Lunch |
| 2.00 | pm | Return Transfer to Georgetown |
| 2.45 | pm | Arrive at Hotel |
HIGHLIGHTS
Merbok River and its ecosystem, Sungai Batu archeological dig, site of the oldest civilization in South East Asia
INFORMATION
DAYS
Thursdays & Sunday
TIME
8.00am to 3.00pm
DURATION
8 hours
ATTIRE
Light cotton slacks (neutral colours), walking shoes, long sleeve shirt (neutral colours), and sun protection
 
BOOKING
For enquiry about this tour programs, kindly approach our Straits Quay Tourist Center located at the main lobby. Business hours from 11am – 08pm including weekends and public holidays. Straits Quay Tourist Center, Strait Quay, Jalan Seri Tanjung Pinang, Tanjung Tokong, 10470 Penang. Phone 604 890 7926. Fax: 604-890-7926. Email: tourist@straitsquay.com
FITNESS LEVEL
Average open paved corridors, initially flat followed with gentle incline both uphill and downhill
RATES RM500 per person
Children under 12 years old RM280 per child
Minimum 2 adults per booking
Tour package inclusive drinking water, lunch, Guide, insurance, Boat ride in 'Sungai Merbok' and return transfer to Strait Quay Tourist Center in Penang