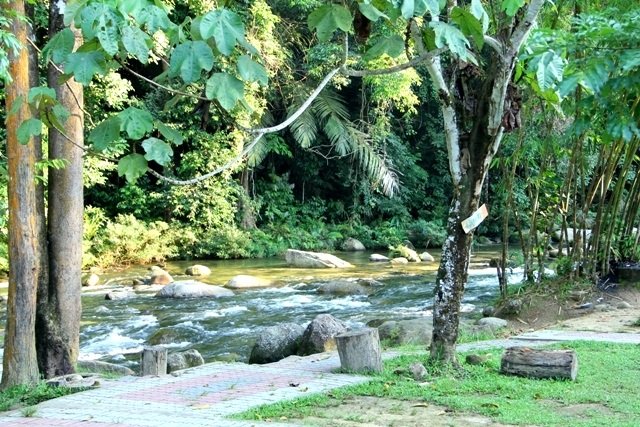 After some light refreshments we begin wildlife watching. We then ascend the canopy walkway, walking 30 meters up amongst the birds and other wildlife. At 925 meters long it is the longest canopy walkway in the world. This will certainly be the highlight of our tour were we will get a chance to observe the most productive part of the rainforest. It is here in the rainforest canopy where most plant life and subsequently most insect life and animal life can be found. Your naturalist will unfold its many secrets to you.
The heat and humidity builds rapidly in a tropical rainforest so we will make full use of the cool of the morning hours. We next go on an easy stroll along a paved pathway that takes us through an open corridor rich with plant life and medicinal herbs and along the way observe the rich bird life that abounds here.
The trail loops and ends at a jungle stream where it is time for an invigorating dip into the cool clear waters of the Sedim River or if you may prefer just resting in a hammock under the shade of a rainforest tree in quiet contemplation, listening to the sounds of the rustling river before us and letting our senses wander through the sights, sounds and fragrant scents of the rainforest that abound us.
For the more energetic among us there is the optional white water rafting to try out, most surely guaranteed to give you a big adrenaline rush. These activities should build up your appetite for a typical Malay picnic lunch with dessert. After lunch we will begin our return trip to your hotel. You should be back at your hotel by early evening. We will be confident that you will have had a most enlighten and eventful day that will not be soon forgotten.
ITINERARY
| | | |
| --- | --- | --- |
| 6.00 | am | Pick up from Straits Quay Tourist Center |
| 7.15 | am | Arrive at Bukit Hijau Forest Reserve |
| 8.00 | am | Canopy walk |
| 10.00 | am | Jungle trail |
| 11.30 | am | Swimming |
| 12.30 | pm | Lunch |
| 1.30 | pm | Transfer to Strait Quay Tourist Center |
| 3.00 | pm | Arrive at Strait Quay Tourist Center |
HIGHLIGHTS
Canopy walkway, Jungle trail, medical plants, swimming, birds, butterflies, primates and other wildlife
INFORMATION
DAYS
Wednesday and Saturday
TIME
6.00am to 3.00pm
DURATION
10 hours
ATTIRE
Light cotton slacks, neutral colours walking shoes, Long sleeve shirt neutral colours, sun protection, towel and change of clothes
 
BOOKING
For enquiry about this tour programs, kindly approach our Straits Quay Tourist Center located at the main lobby. Business hours from 11am – 08pm including weekends and public holidays. Straits Quay Tourist Center, Strait Quay, Jalan Seri Tanjung Pinang, Tanjung Tokong, 10470 Penang. Phone 604 890 7926. Fax: 604-890-7926. Email: tourist@straitsquay.com
FITNESS LEVEL
Average open paved corridors, initially flat followed with gentle incline both uphill and downhill
RATES RM500 per person
Children under 12 years old RM280 per child
Minimum 2 persons per booking
Tour package inclusive drinking water, lunch, Guide, insurance and transfer to Strait Quay Tourist Center