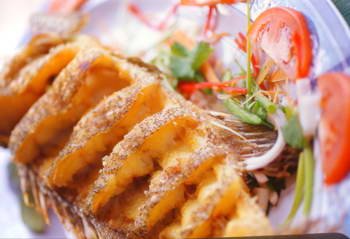 The name Ipoh originated from a local tree, pohon epu or now more commonly known as pokok ipoh. This particular plant is known for its tree sap which is poisonous and used by the orang asli in their blowdarts.
In the Cantonese dialect, Ipoh is known as san seng which means "city surrounded by mountains." Ipoh is also known among Chinese Malaysians as 'Pa-loh'. The old nickname for Ipoh is 'City of Millionaires', referring to the vast fortunes made during the tin and rubber days. Located in the rich tin-bearing valley of the Kinta river, Ipoh grew up as a mining town and is one of Malaysia's largest cities, with a population of 637,200 (2004) and urban area population of 798,800 (2004).
Ipoh is famous for its cuisine. Natives claim that Ipoh's water, relatively high in alkali content owing to Ipoh's location on top of a large karstic formation, makes the food especially tasty. Many people, some even from Singapore and other nearby countries, travel to this city just to taste its especially excellent local cuisine. Also worth a visit are the limestone cave temples on its outskirts.
PLACES OF INTEREST
Perak Tong
Near Gunung Tasek, 6 km north of Ipoh on the main trunk road, there are some huge limestone caves which were places of meditation for Buddhist monks two centuries ago. The Perak Tong Temple within one of the caves leads to caverns and grottoes with statues and paintings of the Buddha set in nooks. The main attraction is a 12.8m-high sitting Buddha which is the tallest and largest of its kind in Malaysia . A passage leads into the cave's interior, and after a steep climb of 385 steps, it opens onto a ledge, which gives a fantastic view of the countryside. Also here is a café that serves excellent vegetarian food.
Sam Poh Tong Cave Temple
Another famous cave-temple is the Sam Poh Tong Temple (Cavern of Three Precious) in Gunung Rapat, 5 km south of Ipoh. The temple is an impressive work of art with various statues of Buddha set among the natural stalactites and stalagmites. A Chinese symbol of longevity, tortoises are in kept in a pond in the inner courtyard. Devotees release tortoises into the pond wishing for luck and longevity, and the pond is invariably crowded. The tortoises can be fed with stalks of vegetables. There is also a wishing well for those seeking better fortunes. An ornamental garden in front of the temple is a a great place for taking photos. There is a vegetarian restaurant within the temple grounds.
Mekprasit Temple
The Mekprasit Temple is a Thai Buddhist temple located about 3km north of Ipoh along Jalan Kuala Kangsar on the main trunk road to Taiping. The highlight of the temple is a 24m-long reclining Buddha, which is one of the largest in Malaysia.
Ipoh Railway Station and City Hall
Constructed between 1914 and 1917, the station is affectionately known as the Taj Mahal of Ipoh to the locals. Situated near Jalan Panglima Bukit Gantang Wahab it bears a resemblance to its Kuala Lumpur counterpart, and combines Moorish and Victorian architecture. Its charm and design recently earned it to be one of the locations for the filming of the Hollywood remake of Anna and the King staring Jodie Foster. Also here is one of the best station hotels in the country known as the Majestic Hotel. Just across from the railway station is the Dewan Bandaraya (City Hall), a huge, white, neo-classical building. Both of these buildings bear testimony to Ipoh 's great wealth, originally from tin mining.
State Mosque
Opposite the Railway Station is the State Mosque. An architectural masterpiece, the State Mosque has a 38m high minaret. Thousands of mosaic tiles adorn the domes.
Darul Ridzuan Museum
Built more than 100 years ago, the Darul Ridzuan Museum was previously the official residence for Malay dignitaries in the Kinta District. The collections here include those that chronicled the development of Ipoh, the mining industry and forestry.The museum is open daily from 9am to 5pm except on Thursday when it is open till 12noon and is closed on Sundays. Admission is free.
Geological Museum
Established in 1957, the Geological Museum has an impressive collection of minerals, fossils, precious stones and rock specimens. There are 600 samples of minerals, classified according to chemical content and structure. The museum is also noted for its exhibition of tin ore, including the best existing specimen of cassiterite. Visiting hours are from 8.00 am to 4.15 pm (Monday-Friday) and 8.00am to 12.45pm (Saturday). Admission is free but visitors must obtain entry permission from the information counter.
Dewan Bandaraya Ipoh Sports Complex
The Dewan Bandaraya Ipoh Sports Complex is the largest of its kind in South-east Asia. It has an Olympic-sized swimming pool, a beginner's pool, a children's pool, a wave pool, a rugby pitch, a velodrome, an astro-turf hockey field, and indoor squash and badminton courts.
Kellie's Castle
Forty kilometers south of Ipoh, on the road leading to Batu Gajah, looms Kellie's Castle, an unfinished mansion commissioned in 1915 by William Kellie Smith. In the middle of its construction, Smith left for England where he died, and the castle was never completed. Shrouded in mystery, it is believed that Kellie's Castle has hidden rooms and a secret tunnel. The road which leads to the Castle follows the contours of the land in a dizzying, maze-like fashion, adding to the mystery and romance of the place.
St. Michael's Institution
Ipoh has provided the country with a good share of scholars and international achievers. One of the most imposing is St. Michael's Institution, a solid three-storey building with long hallways and arched verandas.
Pasir Salak Historical Complex
Situated 70 km from Ipoh , Pasir Salak is of special importance in the historical development of Malaysia as an independent nation. It was here that the original flames of Malay nationalism were sparked. The assassination of the then British Resident of Perak, J.W.W. Birch, ignited a war between the British colonial administration and the Malays.
The Historical Complex pays tribute to warriors such as Dato' Maharaja Lela, Dato' Sagor and Si Puntum by erecting special memorials in their honour. Other interesting sights include Mr. Birch's memorial monument, the burial site of Si Puntum, Dato' Maharaja Lela's fortress, the Lela Tentaka cannons used against the British army, a souvenir shop, as well as an information centre.
The Perak Museum
Located along Jalan Museum, the Perak Museum was built in 1883. The country's oldest museum has displays on zoology, pre-history, economy and ethnology. It contains an impressive collection of archeological treasures like ancient weapons, aboriginal implements and ornaments which reflect Perak's rich historical heritage. The Museum visiting hours are from 9.30am to 5.00pm daily. Admission is free.