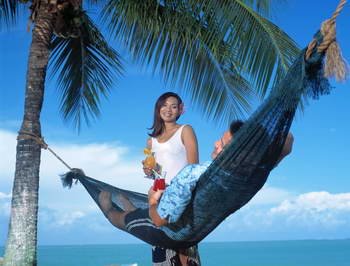 Perak means silver in Malay, and its name was derived from the silvery tin ore that was found aplenty around the state during the turn of the last century. Its capital is Ipoh and its major towns are Taiping, Teluk Intan and Lumut, while Kuala Kangsar is the royal town.
Perak is a state that has everything. It has clean and pristine beaches, unspoiled and secluded islands, tranquil lakes, virgin rainforests, relaxing hill-resorts and charming towns.
More than anything else, Perak's beautiful and undulating landscape will mesmerise any visitor, and its lush jungles and rugged limestone hills will capture your imagination. Perak means silver in Malay, and its name was derived from the silvery tin ore that was found aplenty around the state during the turn of the last century. Its capital is Ipoh and its major towns are Taiping, Teluk Intan and Lumut, while Kuala Kangsar is the royal town.
EATING OUT
Perak offers a variety of delicious food, especially in Ipoh. This city is known for its mouth-watering local dishes. Malay and Indian Muslim food, which are very appetising, can be found at Jalan Sultan Abdul Jalil, Medan Perhentian, Jalan Hospital, Greentown, Jalan Dato' Sagor and Jalan Dato' Tahwil Azhar. Elsewhere Ipoh Hor Fun and Beans Sprouts Chicken always hog the limelight when it comes to Chinese food here.
GETTING THERE
Ipoh,the capital of Perak state is only about 200km from Kuala Lumpur and 165km from Penang via the North-South Expressway (NSE).
MAJOR ATTRACTIONS – BEACHES AND ISLANDS
Lumut
Lumut is situated about 84km south of Ipoh and is a haven of beautiful shell and coral handicrafts. A fishing village serves as the departure point from the mainland for those wanting to visit Pulau Pangkor. Other natural gems of Lumut are the wonderful sandy beaches of Teluk Batik and Teluk Rubiah. Teluk Batik is the venue of the annual Pesta Laut or Sea Festival. Some of the interesting features of the fair include sea-sporting competitions, cultural shows and funfairs. Meanwhile, golfers will love the Royal Teluk Rubiah Country Club as its golf courses have an idyllic view of the beach and surrounding hills.
Pulau Pangkor
Forty minutes by ferry from Lumut is the famous Pulau Pangkor. Its golden beaches, clear blue waters and refreshing lifestyle make it a paradise for beach lovers. Favourite beach activities here include scuba diving, wind surfing, fishing and snorkelling. The real attractions, however, are the lovely beaches on the western coastline, which are unspoiled and quiet. You can often have the beach all to yourself.
Pangkor Laut
This privately-owned island is located three miles off the Malaysian west coast in the Straits of Malacca. The island is one of the country's most natural and unspoiled treasures. Nested amidst this exotic gem is the luxurious Pangkor Laut Resort. The island has been nicknamed Fantasy Island as the resort is truly set in a dream world.
The resort is situated along three bays – Royal Bay, Emerald Bay and Spa Village – and each with its own unique character. The resort boasts 126 Malaysian-style luxury villas tastefully designed and carefully furnished with elegance yet blends in with the lush natural surroundings of the tropical rainforest. It also serves fine cuisine, facilities of international standards and service that is warm and gracious. Jungle trekking is available to nature lovers who would like to experience the island's fascinating flora and fauna. Indeed, the island is an ideal place to get away from the hustle and bustle of city life, as it is exclusive to resort guests. It has also been voted the second best island destination in the world by Conde Nast Traveler.
LAKES
Temenggor Lake
Located about 35km from Gerik, it is perfect getaway for fishing enthusiasts. The lake is home to a variety of freshwater fish like baung, tenggalan and kelah. Orang Asli or aboriginal people still live in the jungles around the lake. Pulau Dendana, a small island in the lake is the nature camp of the Department of Wildlife and National Parks.
FOREST RESERVE
Belum Forest Reserve
At about 120 million years old, the Belum Forest is one of the oldest rainforest in the world. Bristling with flora and fauna this reserve is of great interest to ecologists, conservationists and nature enthusiasts. A permit is required if you would like to explore the reserve.
Ipoh Railway Station
Ipoh is the capital of Perak and it reflects the overall progress of the state. It is the focal point of most industries, businesses, investments, education and social activities. This impressive landmark of Moorish and Gothic architecture has a prestigious nickname — the Taj Mahal of Malaysia. It resembles its old counterpart in Kuala Lumpur and is surrounded by a pretty garden that immediately warms the heart.
Birch Memorial Clock Tower
The clock tower was built as a memorial to the late J.W.W. Birch, the first British Resident of Perak. It is located at Post Office Road/Jalan Dewan. You can see the evolution of life in the state on the small panels of the square tower.
Darul Ridzuan Museum
This museum is more than 100 years old. Exhibits include a collection of history and the phases of progress that Ipoh experienced. There are also artefacts from the state's mining and forestry industries.
Dr Seenivasagam Park
The park offers a variety of flora and is ideal for picnics and relaxation. You can also enjoy the park's numerous recreational and amusement facilities such as a roller-skating rink, a playground, a mini train course and water rides.
Gua Tempurung
This geological wonder is made up of five natural domes. Each dome is unique with its own spectacular stalagmites and stalactites.
Geological Museum
This museum is truly the place to be if you are an archaeological buff. Be fascinated by the impressive display of more than 600 samples of minerals, fossils, precious stones and rock specimens. The museum is also well known for its exhibition of tin ore, including the best specimens of cassiterite in the world. It is located at Jalan Sultan Azlan Shah and admission is free.
Japanese Garden
A Japanese house, a goldfish pond and a wooden bridge across a small stream conjure a serene atmosphere at the Japanese Garden. Lush green grounds and colourful blooms add to the splendour of this garden.
Perak Tong
Experience an amazing treasure within the limestone cave temple, which is located six kilometres north of Ipoh. It is a shrine of 40 Buddha statues and includes a towering 12.8-metre Sitting Buddha. Beyond the main altar there is a passageway into the cave interior and eventually, after 385 steps the cave offers a breathtaking view of the countryside.
Sam Poh Tong
Nestled about five kilometres south of Ipoh in Gunung Rapat is another treasure, the Sam Poh Tong. This cave temple showcases works of art and faith with numerous Buddha statues among the spectacular stalactites and stalagmites. There is also a tortoise pond, which symbolises longevity as well as a wishing well. Visitors can also sample some fine Chinese vegetarian food at a restaurant outside the cave.
River Terrapin Breeding Project
This breeding farm is located at Bota Kanan, 40km south of Ipoh. The farm was opened in 1967 and its primary objective is to conserve the River Terrapin. Between November and March, visitors can witness river terrapins laying eggs along stretches of the riverbank.
State Mosque
The mosque is a prominent symbol of the state's Islamic background and a major landmark in Ipoh. A unique feature of its architecture is a 125-metre minaret, which can be seen rising above its mosaic domes from most parts of the city.
Tambun Hot Springs
This is a natural spa at the bottom of a limestone hill. It is a 15-minute drive from Ipoh city. Take a dip in the hot water that is rich in minerals and sulphur to de-stress and feel invigorated.
BATU GAJAH
Kellie's Castle
Kellie's Castle is about 30 minutes from Ipoh. English rubber tycoon William Kellie Smith built it sometime in the early 20th century. Construction began in 1915 but it was never completed. Like many castles around the world, it is believed that this one too has hidden rooms, dungeons and secret underground tunnels. Whether they exist or not has not stopped visitors from coming by the droves to find out for themselves.
KUALA KANGSAR
Royal Museum
The Perak Royal Museum has a unique traditional design in which the entire structure was built without a single nail. On display are the photographs of the Perak Royal Family, royal regalia, illustrations and artefacts belonging to the past and present monarchs of the state.
Ubudiah Mosque
This mosque is one of the most impressive in Malaysia. It is a fine example of beautiful Islamic architecture. It was built during the rule of Sultan Idris Murshidul Adzam Shah I, the 28th Sultan of Perak, and it was officially opened in 1917. It is located at Bukit Chandan, Kuala Kangsar.
Iskandariah Palace
The Iskandariah Palace is located on the top of a small hill called Bukit Chandan. The palace is the official residence of the Sultan of Perak. The Saracenic or Moorish architecture elements make the palace a spellbinding sight.
The First Rubber Tree
The first rubber tree was planted in 1877 near the Kuala Kangsar District Office. There were nine trees planted and this was the only one that survived. H.N. Ridley brought the rubber seeds from Kew Garden in London and was the man responsible for turning Kuala Kangsar into the first rubber industry district in the country.
TAIPING
Taiping means eternal peace in Chinese. The British Government transformed Taiping from a slow-paced town into a developed one of that era. Its progress created a string of historical firsts that made it one of the oldest towns in Malaysia. It is the first town to have a Malay school (1942), a hospital (1880), a courthouse (1876), a swimming pool (1870), a museum (1883), a prison (1885) and a government office (1879).
Perak Museum
Built in 1883, it is oldest museum in the country. It houses an impressive collection of ancient weapons, aboriginal implements, ornaments and archaeological treasures. Other exhibits include artefacts from Perak's rich historical cultural heritage.
Taiping Lake Gardens
This beautiful 62 ha garden offers lush greenery, a beautiful lake abound with freshwater fish, a gazebo and many species of colourful blooms. Visitors can go aboard boats, try out aqua bikes or relax at a rest house. The country's oldest zoo, the Taiping Zoo, is also within the gardens.
Bukit Larut (Maxwell Hill)
This hill is located about nine kilometres from Taiping. The oldest and smallest hill resort stands at 1,035 metres above sea level and is accessible only by powerful four-wheel-drive vehicles. The road up twists and turns through a tropical virgin jungle.
TELUK INTAN
Teluk Intan Leaning Tower
This pride and joy of Teluk Intan is also known as Malaysia's Tower of Pisa. This pagoda inspired tower is 84km from Ipoh city and stands at 25.5 metres high. It was built in 1885 by Chinese contractor Leong Choon Choong and was once used to store water.
TAPAH
Lata Kijang This waterfall that cascades down a 100-metre drop before reaching a deep pool is a sight to behold and offers swimmers an invigorating experience. Enjoy a rejuvenating dip and laze on the big boulders by the natural pool. Visitors may also visit an orchid garden and a bamboo park here.
SUNGKAI
Sungkai Deer Farm
Situated in Manderang, about 82km from Ipoh, this farm is the only one of its kind in the country. Established in 1978, its primary objective is to breed and conserve this wild animal. About 100 deer roam on the 100 ha farm. There is also an exotic bird sanctuary nearby.
AGROTOURISM
Bersia Grazing Reserve
Managed by local farmers and located about 15km from Gerik, this is the place to experience cattle feeding in lush greenery, night fishing and a visit to Orang Asli settlements. A virgin tropical forest, flora and fauna and a blue lake lend a serene aura to this farm. Four quaint little huts built from timber and bamboo translates as lodging for tourists.
Herbal Farm
More than 60 species of traditional herbs are grown for their medicinal and therapeutic benefits here. Visitors can also visit the Orang Asli village or take a dip in the hot springs and waterfalls here. The farm is only accessible by four-wheel drive and is situated 12km from Pekan Sungkai.
Ipoh Tambun Lime Plantation
This is the biggest lime plantation in the country and it spreads over 0.81 ha. Take this great opportunity to learn about the methods used for producing high quality limes. The plantation is only two kilometres from Tambun.
SHOPPING MALLS
Perak offers modern shopping malls primarily in Ipoh and other major towns.
Ipoh Parade
Ipoh Parade is located at Jalan Sultan Abdul Jalil and is one of the favourites among shoppers. It comprises five floors that retail fashion apparel, accessories, home furnishing items and other merchandise. It also houses cinemas and entertainment outlets.
Kinta City
Kinta City is a hotspot for shopping. It is located at Jalan Tasek, also in Ipoh. It houses over 100 retail outlets, which offer local and international brands of fashion, trendy cafés and popular fast food names.
LOCAL HANDICRAFTS
Perak is a place for avid craft collectors, especially the Royal Town of Kuala Kangsar. Its fine traditional crafts include labu sayung, bamboo carvings, seashell designs and gold embroidery. Labu Sayung is a collection of exquisite blackened clay ware and it serves as a water pitcher. Among the popular spots to shop for local handicrafts are at Kampung Padang Changkat, Kampung Berala, Kampung Kepala Bendang and Enggor. Handicraft stores can also be found along the Ipoh-Kuala Kangsar trunk road. The state is also well known for its citrus delights such as seedless guavas and pomelos. These juicy fruits make ideal gifts for your friends and family. Pomelos are about the size of a soccer ball, fresh green in colour on the outside and have pinkish succulent pulps on the inside.