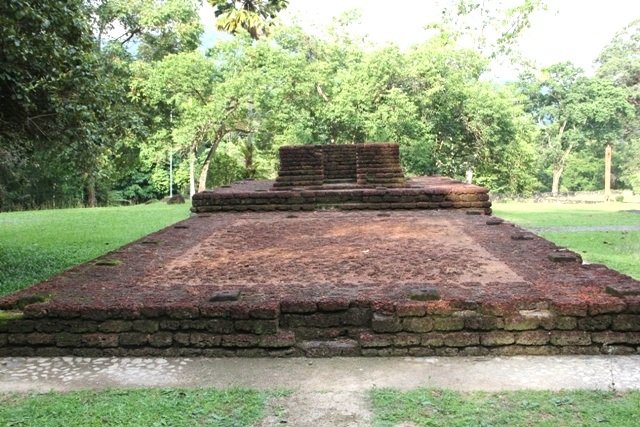 The Funan Kingdom of Vietnam, the Sumatran Kingdom of Sri Vijaya, the Thais, the Portuguese, the Achenese and the British also occupied Kedah.
The oldest civilization in Peninsular Malaysia is the land of padi fields, Kedah. One of the most appealing northern states, Kedah mirrors the quintessential Malay persona and offers visitors a glimpse into interesting people and mind-boggling attractions. Lembah Bujang in the state of Kedah contains the remains of the Langkasuka Kingdom believed to date back to the fifth century. The Funan Kingdom of Vietnam, the Sumatran Kingdom of Sri Vijaya, the Thais, the Portuguese, the Achenese and the British also occupied Kedah.
Kedah is the most interesting states you will visit. It covers an area of 9,425 sq km and has an interesting landscape as it has miles upon miles of lush green padi fields, which are only occasionally interrupted by huge limestone outcrops. The state also has its share of rich cultural traditions, songs and dances. Its capital, Alor Setar is a treasure filled with historical royal buildings of impressive architecture that date as far back as 200 years.
GETTING THERE
Malaysia Airlines and Air Asia offer daily return flights between Alor Setar and Kuala Lumpur via Penang or Kota Bahru. Trains from various towns to Alor Setar are also available along the north-south track. Likewise, you can hop into a bus or taxi to Alor Setar from most parts of the country. If you wish to drive, the North-South Expressway (NSE) is a safe and convenient route to take. You can break at rest stops along the way to use the restrooms or prayer rooms. A number of food stalls also serve food and drinks. The highway links Kuala Lumpur to Bukit Kayu Hitam-Hutan Kampung toll plaza over a distance of 490.4km and 458.2km to Alor Setar, which translates to about five hours' drive.
MAJOR ATTRACTIONS – NATURE'S PARADISE
Pantai Merdeka
Pantai Merdeka (Merdeka Beach) is located in Kuala Muda, 30km from Sungai Petani and 40km from Butterworth. It is a beautiful white sandy beach with tall palm trees and spots for picnics and relaxation. Water skiing and sailing are popular sports here. You can also visit nearby islands like Pulau Bidan, Pulau Telur and Pulau Song by boat. A cave with historical artefacts lies near the beach.
Waterfalls
Kedah's waterfalls make lovely picnic spots amidst greenery and clear, crisp mountain air. Among the well known waterfalls are Batu Hampar in Yan (32km south of Alor Setar), Puncak Janing (25km northeast of Alor Setar in the Padang Terap district), the Junjung Waterfalls in Kulim and Lata Mengkuang (Menkuang Rapids) in Sik, about 72km north of Alor Setar.
Pedu Lake
Pedu Lake is an eco-tourist destination located 80km from Alor Setar. There are comfortable village-style accommodations of good standard here with skiing, canoeing and wind surfing among the most popular activities you can take up. Bird watching and fishing are also popular, as is spotting bears, elephants, deer and wild boar. Golfers will love it here too, as there is an 18-hole course.
Gunung Jerai
Rising 1,200 metres above sea level, Gunung Jerai is a huge limestone outcrop and Kedah's highest peak. It features calm surroundings and a magnificent view of Kedah from its peak on clear days.
Taman Rekreasi Gunung Keriang
The Gunung Keriang Recreational Park is a natural habitat for hundreds of tree and plants species. It offers a wonderful panoramic view and adventure activities like jungle trekking, camping, jungle jogs and caving.
Bukit Hijau Recreational Forest
Located in Baling, 120km southeast of Alor Setar, this park offers a wide variety of flora and fauna. Elephants, tigers, tapirs, barking dears, grey long-tailed monkeys, squirrels, birds and wild fowls are among its residents. It is also famous for its seven-tier crystal waterfall. The forest won an award in a landscaping competition under the category of agriculture and forestry in 1997. It is classified as an Educational and Research Forest and there is also a Virgin Jungle Reserve nearby.
Alor Setar
A town that is rich in interesting histories and culture. It is also a place to see the marvels of local and regional architecture, as there are many magnificent old buildings here.
Balai Nobat
This octagonal building houses the sacred instruments of the Royal Orchestra, which are played only during royal ceremonies. Though it is closed to the public, you can take pictures of the building from the outside.
Balai Besar
This is one of the oldest palaces in Malaysia. It is a wooden edifice embodying Thai architecture. It houses the royal throne of the Kedah Sultanate. These days, this great hall is frequently used for royal and state ceremonies.
Muzium Diraja
Muzium Diraja or the Royal Museum is located right opposite Balai Besar. It was used for royal wedding ceremonies and to house royal guests at one time but is today a museum of royal regalia and cultural heritage.
Masjid Zahir
This mosque was officially opened in 1912 and like many places of worship of the time, was inspired by Moorish architecture. A Quran-reading competition is held here annually.
Balai Seni Negeri
Located close to Masjid Zahir, Balai Seni Negeri or the State Art Gallery houses paintings, antiques and relics.
Royal Boat House
Situated near the banks of Sungai Anak Bukit, the Royal Boat House contains several boats used by the former rulers of Kedah. The boats are still in very good condition. Descriptions of their origins and usage are well placed here.
Pekan Rabu
Pekan Rabu (which literally means Wednesday Market) originally got its name because it used to be held only on Wednesdays. These days, it is open everyday from morning to midnight. The stalls offer lots of variety from farm fresh products to local handicrafts. You can also sample local delicacies like dodol durian, a sweet delicacy made from the durian fruit, and other Malay titbits.
Menara Alor Star
The 19th tallest telecommunications tower in the world and also the 2 nd tallest in Malaysia stands proudly at 165.5 metres. This towering landmark is also major tourist attraction and a recreational centre for arts and cultural activities. It has a revolving restaurant, an amphitheatre, a conference room, a viewing gallery and a cafeteria (on the ground floor). Binoculars are available at the viewing gallery (observation area) located on the 88-metre level, where visitors can enjoy a panoramic bird's eye view of the beautiful Kedah countryside scenery. Dining at the tower's revolving restaurant is a pleasant experience and you can also pay your phone bills at the Kedai Telekom there.
Nikradharam Buddhist Temple
This temple was inspired by Siamese architecture. It is decorated with statues, painting and colourful mosaics. A golden Garuda is suspended over the main entrance while the outer walls contain inscriptions of Buddha's teachings in three languages.
Muzium Negeri
The State Museum is situated at Lebuhraya Darulaman. The museum has three floors filled with antique weapons, jewellery, costumes and furniture.
Birth House of Tun Dr Mahathir Mohamad
Malaysia 's former Prime Minister, Tun Dr Mahathir Mohamad was born in this house at 18 Lorong Kilang Ais, off Jalan Pegawai. The National Archives restored and gazetted the house as a historical building in 1992. Photographs, furniture, household items and even his favourite bicycle are displayed here.
Kuala Kedah
Kuala Kedah is located at the mouth of the Kedah River. Kota Kuala Kedah is a fort on the outskirts of the town, which was built to ward off Kedah's enemies from then Siam. When you are here, you must try the famous local favourite, laksa. It is a dish of rice vermicelli, fresh cucumbers and onions served in spicy fish gravy. Another attraction here is the two floating seafood restaurants that were once fishing vessels.
Bukit Kayu Hitam
The main tourist attraction here is the duty-free shopping complex. It is housed in a modern three-storey building with over 5,000 sq meters of retail space and ample car parks, near a stall. Visitors can also dine at the fine restaurants or try their hand at golfing at the Black Forest Duty Free Resort here.
Lembah Bujang Archaeological Site
Lembah Bujang is considered Malaysia's richest archaeological site. It stretches between Gunung Jerai in the north and Sungai Muda in the south. More than 50 Hindu and Buddhist temples were discovered along the Bujang River and to date, eight have been restored to their original structure using original materials. The Bujang Valley Archaeological Museum in Pengkalan Bujang, Merbok displays numerous artefacts, stone caskets, gemstones, beads and photographs. This site is not to be missed by visitors who are fans of history and archaeology.