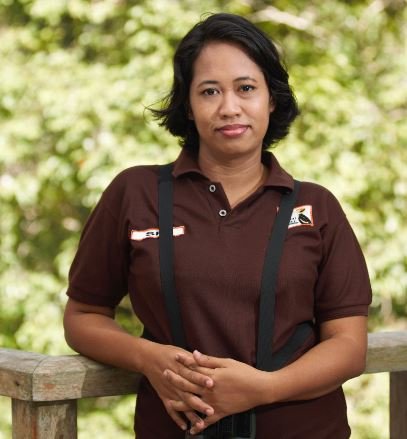 Sri Sari spent her early childhood in Sumatra, her favorite school holiday activities including visiting the countryside, listening to the birds' song, enjoying mud-crab catching in the mangrove forest, and picking up durians from the family farm at the edge of the primary rainforest.
In 1992 she completed vocational school in Marketing Management and in 1997 completed Tour and Travel Management Study at University Sumatera Utara.
Her love affair with Langkawi sparked from a sunset poster of Tanjung Rhu she saw every day at work, Sri was determined to find her way to Langkawi. With luck on her side and an undeterred great positive vibe, she finally landed a job on Langkawi. In 1998 she left her big-city life and led a way of life she always dreams of – the tranquility of the countryside.
Sri has joined a birdwatching course with the Malaysian Nature Society and has enjoyed birding at many Malaysian favorite birding sites. Over the years, Sri has worn many hats including that of birdwatching guide, kayaking guide, tree planter and most recently as educational program coordinator and marketing manager with Junglewalla. A strong advocate for nature, Funny yet serious about birds and wildlife conservation Sri is a perfect candidate to set you up with a complete nature experience.