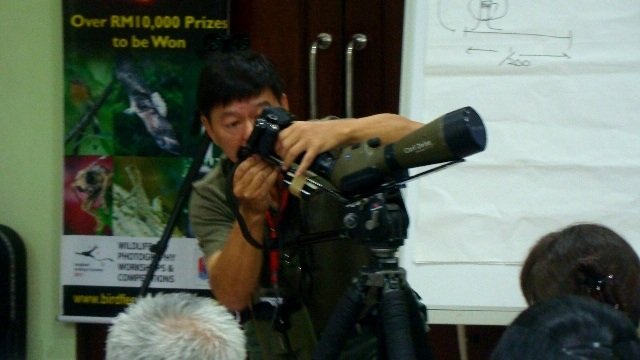 TEE LIAN HUAT – PIONEER OF DIGITAL VIDEOSCOPING
Considered a pioneer of "Digital Videoscoping". A trained accountant with a passion for birds, he has been photographing birds as a "digiscoper" for over 15 years with the last 3 years as a "Digi-videoscoper". Today Mr. Tee is a leader of this very new and innovative method capturing wildlife/birdlife in action. His days are spent in the rainforest nearby Kuala Lumpur sharpening his skills and techniques in the art of "digi-videoscoping".
He has traveled to Myanmar, Thailand, Australia and Borneo in pursuit of his passion- birds.
His years of experience has resulted in the capture of hi definition digital footage of some very rare birds. Needless to say his video images are highly sort after especially in the tourism sector. Join us as Mr. Tee Lian Huat shares his passion, experiences and techniques with us. Come and view some of his amazing video images of birds in their full glory