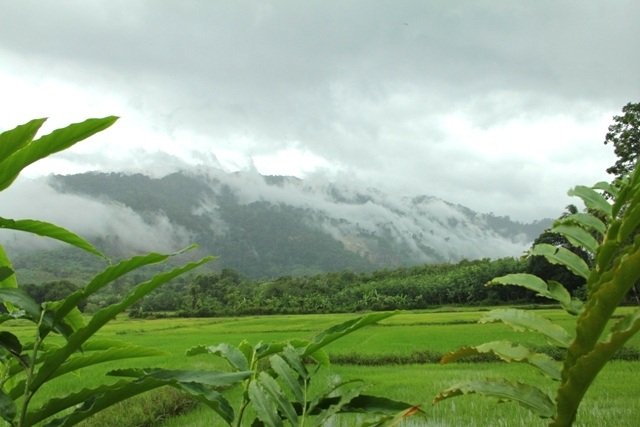 BUSES – Fares depending on the distance and destination and whether the bus is air conditioned or not. Always flag for buses and carry small change. Keep your ticket in case the Ticket Inspector asks for it. Buses may not always adhere to the schedule but most of them run frequently between 9am to 6pm. The last run is between 11pm and midnight.
RAILWAY In Malaysia, all tracks lead to Lumpur. Two main railway lines operate for passenger service. One runs along the west coast from Singapore to Kuala Lumpur and Butterworth and meets The Thai railways at the border¬ the other lines travel up to the northeast part of the peninsular near Kota Bahru, also meeting up with the Thai Railway. The Malayan Railway or Kereta api Tanah Melayu (KTM) offers two types of passenger services: Express ( air conditioned first and second class; luxury coaches and nigh berths) and economy class ( non-air-conditioned). The KTM visit Malaysia Rail pass for tourist (excluding Singaporeans) offers unlimited travel on any passenger train by KTM (not valid for travel on the state railway of Thailand). Passports are required when purchasing the Rail pass or making reservations.
CAR RENTAL – Several car rental agencies offer self drive cars for hire if you possess a valid international driving licence. Keep a Kuala Lumpur road map on hand and fasten your seat bed (which is compulsory for passengers). One word of caution the speed limit in town is 50km per hour always keep to the left side of the road if you are going slowly.
GETTING TO MALAYSIA
BY AIR
Most visitors arrive by air at one of the six international airports in Malaysia. The main gateway is the Kuala Lumpur International Airport (KLIA) at Sepang in the state of Selangor. The rest of the country, including Sabah, Sarawak and the Federal Territory of Labuan in East Malaysia, is well serviced by 14 domestic airports and airstrips.
KUALA LUMPUR INTERNATIONAL AIRPORT
Incorporated into the airport's design is an automated shuttle system which links the satellite building, where passengers disembark, to the airport terminal building, where immigration and customs clearances take place. With a connection time of a mere two minutes, this fully automated baggage and passenger clearance system is especially efficient.
Within the airport terminal building, there are rest, recreation, dining, and duty-free shopping facilities. The fitness centre at the Hotel Airside Transit even comes with a well-equipped gym, steam room and sauna. Just a mere 5-minute walk from the airport is the luxurious 5-star Pan Pacific Hotel.
From KLIA, KL is a short 28-minute journey away on the comfortable KLIA Express, a high-speed rail service. By road, visitors may travel via the ELITE highway or the North-South Expressway. The North-South Expressway also links the main towns on the west coast of Peninsular Malaysia. Car rental, bus, coach, taxi, limousine and rail services into Kuala Lumpur and neighbouring towns are widely available at the airport.
PUBLIC TRANSPORT TO AND FROM KUALA LUMPUR INTERNATIONAL AIRPORT (KLIA)
Various modes of public transportation are available to and from KLIA , they are:
Express coach City (KL City)

Route: KLIA to / from Hotels in KL via Hentian Duta Bus Terminal and vice-versa
Frequency: 30 minutes interval
Traveling time: 1 hour
First Service: 5.30 am
Last Service: 22.30pm
More detail information please visit http://www.klia.com.my

KLIA Express Train

Route: Departs KLIA and KL CAT
Frequency: The trains depart every 30 minutes
Traveling time: 28 minutes – non stop
First Service: 5.00 am
Last Service: 24.00pm
* There are off-peak periods, during which the trains depart every 20 minutes. The off-peak periods are from 0900 hrs to 1600 hrs and from 2200 hrs until midnight. At all other times, the trains continue to depart every 15 minutes.
LIMOUSINE (Airport Limo)
TWO levels of LIMOUSINE taxi service are provided at KLIA , Premier Service and Budget Service. This is a Pre paid service and coupon can be purchase at the airport limousine counter located after the customs check points in the Arrival Concourse of the Main Terminal Building Fares arid routes are based on a zoning system and vary according to the type of service used. International class hotels are located within walking distance from the terminal building. KLIA is located about 50km from the city of Kuala Lumpur.
BY SEA
Peninsular Malaysia and East Malaysia are easily accessible via sea ports. Located just outside the capital city of Kuala Lumpur (KL) on the west coast of the Peninsular, Port Klang is Malaysia's largest modern sea port. With excellent harbourage, it is also a major shipping and cargo terminal. Other major sea ports are located on the islands of Penang and Langkawi, in the north of the Peninsular; at Johor to the south; at Kuantan on the East Coast; and at Kota Kinabalu in Sabah.
Westport on Pulau Indah
Already serviced by North Port and South Port, Port Klang is now serviced by the new international harbour city – Westport located on the island of Pulau Indah. A free trade zone, Pulau Indah is currently being developed as an industrial, commercial, residential, recreational and tourism hub with a marina and resorts.
Stretching over 11km, with a natural depth of 14-18 metres, Westport is designed to be a high-tech regional port. It has a container terminal, large warehouse area and commercial centre. Star Cruise Terminal – the largest cruise ship terminal in the Asia-Pacific region – is also situated here. Star Cruise is a major international leisure cruise line that calls at Penang, Port Klang, Malacca and Langkawi.
FerryLink operates a vehicular ferry service from Changi Point in Singapore to Tanjung Belungkor on the southern coastline of the Peninsular. Tanjung Belungkor is the gateway to the popular beach resort of Desaru. There are four daily trips on weekdays and eight daily trips on weekends.
BY ROAD AND RAIL
Located 48km north of Alor Star in the northern state of Kedah, Bukit Kayu Hitam is the main entry point into Malaysia for visitors from Thailand. The North-South Expressway links Bukit Kayu Hitam to Kuala Lumpur – 490km away. Near the Malaysian immigration and customs post are restaurants, shops, car parks and a duty-free shopping complex.
Situated on the main rail route with a daily train service from Bangkok, Padang Besar – in Malaysia's northernmost state of Perlis – is another entry point. Keretapi Tanah Melayu (KTM) or Malayan Railway provides an international express from Butterworth to Haadyai in Thailand, and regular services from Padang Besar to Singapore via Kuala Lumpur.
The exclusive Eastern and Oriental Express also romances the route from Bangkok to Singapore via Kuala Lumpur. Covering the entire length of the Peninsular – over 2,000 km, this two-day journey has frequent stops at scenic locations.
For visitors entering from the Singapore, Johor Bahru is the main southern entry point. The North-South Expressway links Johor Bahru with Kuala Lumpur – 220km to the north. A rail and road causeway connects Johor Bahru to Singapore. Immigration and customs checkpoints are based at the entrance to the Causeway. A second bridge links Tanjung Kupang – 30km south-west of Johor Bahru – to Tuas in Singapore.