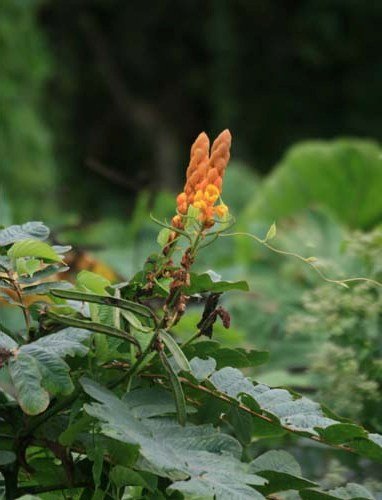 This unique inner city slice of tropical rainforest lives on at the base of one of Kuala selangor most prominent landmarks, the 421 metre high Kuala Lumpur Tower. Gazetted as a forest reserve in 1906, Bukit Nanas is the oldest such reserve in Malaysia. Bukit Nanas was also gazetted as a Wildlife Reserve and Bird Sanctuary and in 1950 a central, pristine section of about 5 hectares was gazetted as a Virgin Jungle Reserve.
Department of Forestry Peninsula Malaysia – Site Office
Lot 240, Bukit nanas – Jalan Raja Chulan
50250 Kuala Lumpur
Phone: 03 230 6342
Fax 03 292 5667
GETTING THERE
At the base of the Menara Kuala Lumpur (KL Tower) in the Golden Triangle of Kuala Lumpur Entry points from Jalan Raja Chulan, Jalan Bukit Nanas, Jalan Ampang, Jalan Gereja, and through the grounds of the KL Tower via Jalan Puncak.
THE PARK AT A GLANCE
Size: 10.5 hectares
Activities:Flora of a virgin jungle reserve ecosystem at the centre of Kuala Lumpur Walking through KL city' Green Lung. Observing birds insects, reptiles and small mammals.
Facilities: Forest Information Centre, nature walking trails, bird watching area, playground, exercise stations, picnic benches and access to KL Tower.
Accommodation: None on site, large selection of city hotels within walking distance.
Permits/ Access: Free public access. No Permits required. Open daily between 8.00 am and 5.00 pm
Flora and Fauna: The rainforest cover throughout the reserve is displaying an emergent and middle layer, shrub layer and forest floor that provides a good example of complex stratification of a primary lowland dipterocarp
The rich variety of flora that flourishes within the forest creepers, ferns, climbers and giant bamboo grasses above the forest floor, a lush rainforest canopy dominated by huge tropical tree species, including Meranti, Keruing chngal and pulai.
The Bukit Nanas Forest Reserve helps to cleanse the air of its surrounding environment by acting as a purifier for dust and toxic pollutants that are now so much part of modern city living.
A good starting point to explore the reserve is from the educational Forest Information Centre on Jalan Raja Chulan. From here, a robust climb up a well maintained paved pathway leads into the central area of the reserve where there is an access gate into the grounds of the Menara Kuala Lumpur that hovers spectacularly above the forest canopy like a gigantic intergalactic star ship. This pathway meanders on past an exercise area and children's playground to finish at The Bukit Nanas Malaysian Timber Product Gallery on Jalan Ampang, at the other end of the reserve.
Nature lovers are most likely to observe the sanctuary's wild inhabitants along the more than 660 metres of unpaved forest trails. Wildlife includes squirrels, birds, butterflies, insects and two introduced species of monkeys, the long tailed macaque and the silvered leaf monkey.
The ancient forest and wildlife reserve that flourishes at the centre of Kuala Lumpur is a rare feature among all major international cities. An excursion through Bukit Nanas provides a real, 'soft adventure' introduction to Malaysia's unique natural heritage and tropical rainforest ecosystems.