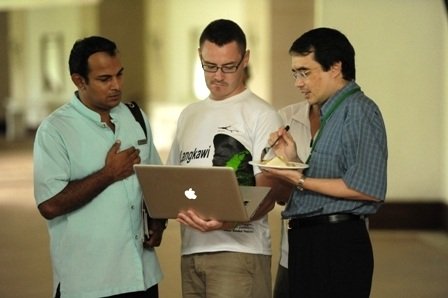 Nature Talks – a Scientific Event of the Langkawi Nature Festival LNF Event
The nature talks were hosted by The Andaman A Luxury Collection Resort in the afternoon of the first day. Participants of the nature talks were very privileged to have butterfly expert and scientist Dr. Laurence G Kirton from FRIM and Marine Mammals expert Dr. Louisa S. Ponnampalam representing MareCet speak on various issues pertaining to the science and conservation of butterflies and marine mammals on Langkawi.
LNF's Scientific event took shape in the form of Nature Talks & workshops by expert Naturalists, Scientists and Nature Interest Groups. Speaking and teaching on critical issues concerning conservation of our Natural Heritage and the key factors for us to take note on this matter.
The aim is to gather minded Naturalists and Scientists as well as people who would like to learn more about wildlife particularly Langkawi's Natural Heritage to converge in an indoor setting to hear what the experts have to say about the subject.
We are very privileged to have Dr. Laurence Kirton a world authority on Entomology and Malaysia's foremost expert on butterflies in Malaysia and Singapore as a key speaker on butterflies. His presence will surely add greater scientific significance and influence for Langkawi.
Feature experts from Marecet a Research Organization on Marine Mammals to talk about dolphin and whales and its conservation and awareness in Langkawi.