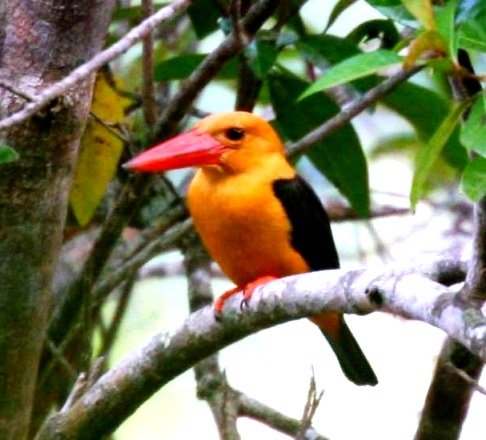 TARGET BIRD: Brown-winged Kingfisher
My guest is a serious birder and has been to many destinations in the world. He has been trying to spot the Brown-winged Kingfisher for a few days in Langkawi and have not managed to see the bird. His last visit to Thailand has not been successful to spot the bird either.
At last, yesterday was a little bit clearer day and we decide to depart the hotel at 4pm. We went straight to the mangrove. It was high tide and I knew this not going to be easy. As we enter the mangrove from the beach site, I could hear the call of the Brown-winged Kingfisher. We can see a flash of brown as it flew inside the mangrove forest. We just more determent to find it now !.
After a good 30 minutes including a walk in the water and mud, I saw it sitting on the mangrove branch. From the back we can see the blue on its rump. The Brown-winged Kingfisher then turn and we can see its orange beak. With heaven shining down on it, he looks beautiful with his clean and shiny plumage.We just took time to observe and he put on a good show for us including a few dip in the water and managed to catch a small crab. Since my guest has seen all the birds in langkawi list in many other places in the world and Malaysia, he then decided that its enough and we headed back to the hotel.So far this was the shortest Birdwatching trip I ever had. I felt so happy for him that we managed to spot the Brown-winged Kingfisher. Just like him I go to destinations with list of birds to see as well and rarely stop at nothing!. If it's mean to swim in the mud, or eaten up by mosquitoes so be it. Good to know that there are quite a few people just like me.