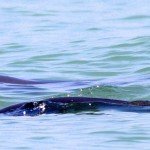 Squids and Dolphins in Andaman Sea
It is the squid blooming season here on the island and the local fishermen are out in full force for this annual fishing tradition.
With individual catch size of sometimes more than 40kg per night it is a very lucrative time for the fisherman. Increasingly squid jigging are gaining interest among tourist from the sport fishing community.
But that is not all that the squids are attracting for they are also attracting the Irrawaddy Dolphin that feeds on it to our waters. Most of the local sightings have been recorded between Datai Bay and Tanjung Rhu, along the northern coast of Langkawi. Their range extends between the Bay of Bengal to New Guinea and the Philippines. In Malaysia it is often seen off the coast, in estuaries and bays around Langkawi and the states of Sabah and Sarawak in Malaysian Borneo. In Sabah numerous sightings been recorded off the coastal waters of Sandakan.
Our Mangrove Cruise Tour usually frequents the open waters around Tanjung Rhu where we have had a few opportunities to observe these beautiful creatures. On one such occasion we chanced upon a pod of over 60 individuals, their muscular bodies sparkling from the reflection of the midday sun. We noticed that the dolphins circling back and forth within a small area. On close inspection we also noticed the color of black ink in the water. The dolphins were feeding on squids, the ink are ejected by the squids as a defensive strategy in its struggle to escape the frenzy of hungry dolphins. Squids are quite fast in the water due in part to its ability to utilize jet propulsion and easily escape most marine predators and the ink to hide its escape. It is quite rare to see Irrawaddy dolphins but are chances are much better during the squid season.
I do worry about these dolphins for they are threatened by indiscriminate fishing practices. Local and foreign fishermen using fishing trawlers and with their deep trawler nets can sometimes trap these dolphins causing them to drown. The IUCN have presently listed five of the seven subpopulations as critically endangered, primarily due to drowning in fishing nets.
I would like to end this blog on a positive note of a special mutually beneficial relationship that was recorded in India between a fishing community and the Irrawaddy Dolphins. Today Fishermen recall of a time once when fishermen old used call out to the dolphins, to drive fish into their nets. With acoustic signals the dolphins would coral the fish towards the awaiting fishermen with their cast net. In return the dolphins were rewarded with some of the by-catch.
By: Nurhidayah Hussien – Daia (Nature Guide)