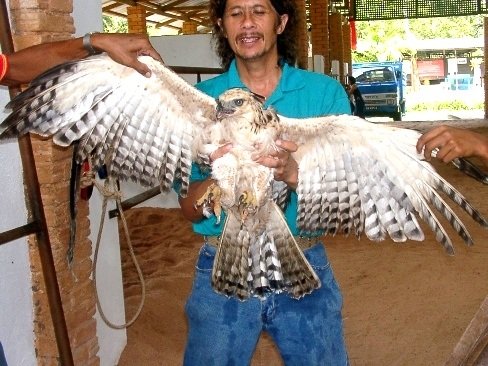 Mountain Hawk-Eagles langkawi
As I scanned the sky closely, I noticed a pair of Mountain Hawk-Eagle and a juvenile hovering on the sky. Ah! . Now, that's probably the reason why it's so quite as most of the birds and small mammals are lying low in fear of their life.
It was the morning of the 3rd June 2007 about 10 am, Irshad passed by the office and hurried me to jump into his car. He has a big box on the passenger seat. It has been a week in which the sky has been hazy caused by burning rainforest from neighboring state. He was on his way to the morning walk when he notices 3 men by the side of the road handling a bird just outside their car. It was a Mountain Hawk Eagle. Anyhow he managed to get the bird off those guys, did his walk and now in a hurry to send the bird to Hamzah at the horse riding stables, he is great with animals and has the experience and facilities to care for the rescued bird.
The bird was very weak and from the feather colouring we can judge without a doubt it's a young adult bird. After measuring it and checking it thoughtfully, Irshad fed it with some chicken meat which she quickly gobbled up. We figure she must have been starving, could not hunt because of the haze.
I was excited to hold the bird when Hamzah pass her on to me and she quickly grasps my fingers, sank her talon to my palm and gradually tightens her grip. Her talon went right through from my palm to the back of my hand, I felt my fingers were about to break and blood was gushing through the wound.
I knew I should do something before she locked her talon on me. If that happen, one of us has to lost a hand or foot!. I quickly took a Horse grooming brush and push it under her foot and she slowly releases my hand and grasps the brush.
She look well so we decided to put her in the horse cage with a half open roof so she could decide when to leave. The next morning, Hamzah said she was still there and he served her a little more fresh chicken. By late morning when we came back to check on her, she was already left.
I went for a tetanus jab that day, but my hand was throbbing the whole night long. Still it was an honour to meet her no matter how unfortunate the circumstances for her were. Though I felt silly at the time for not wearing the glove, call me a fool but I am proud of this "particular" scar on my hand.
Is that her up there?… maybe not , but I like to think its her because it makes my heart warm thinking that she survived and now raising a family.
Note: Both male and female Mountain Hawk-Eagles are the same non colour and we cannot identify at the time it was male or female. I use female (she, her) here as reference. The first sighting of a Mountain Hawk-Eagle by Irshad was on 1989 and since then we recorded 4 pair of resident Mountain Hawk-Eagles in Langkawi.
PS: Please join us by signing the petition to Protect Langkawi Remaining Rainforest at: Campaign To Conserve Langkawi's Remaining Rainforest